The Vermont PUC Reviews Our State's Solar Program.
Vermont's Public Utilities Commission is reviewing our state's solar program.  Let your voice be heard.
This spring, Vermont's Public Utilities Commission reviews our state's solar program. Every time the program has been re-opened, solar loses value.  (Never retro-actively, for sure, but for the next folks who go solar.)  Through this review, we'll be urging the PUC to hold the value of solar steady.  And not make it any more difficult or expensive for Vermont homeowners and businesses to do their part in building local, clean energy generation for our state.
The amount of solar permitted in Vermont declined last year. We need to right the ship, not make it worse.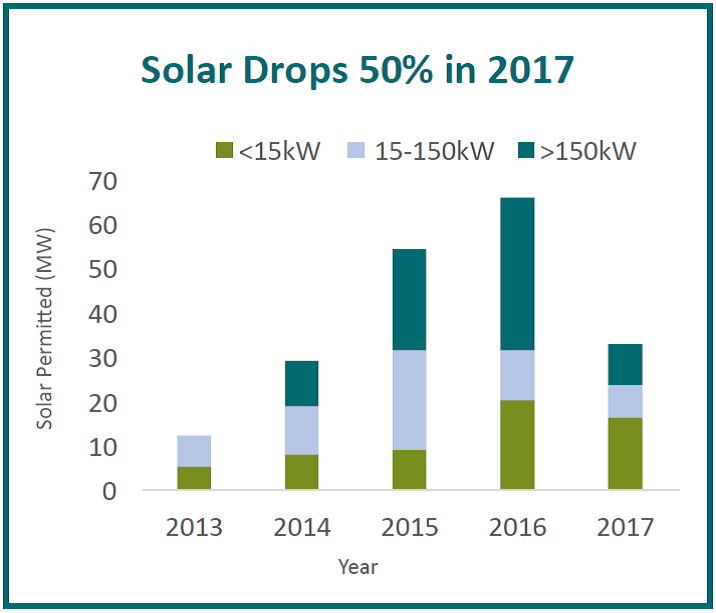 The current solar policy went into effect January 1, 2017 and last year saw a 50% drop in the amount of solar permitted. Larger arrays serving small and large businesses saw the largest declines. Community solar arrays virtually disappeared. And the amount of home solar permitted also dropped, though less dramatically.
2017 was the first time solar has trended down since before 2000, possibly ever. This is the wrong direction for Vermont's economy and for the planet.
The solar industry is facing headwinds from the federal government.
In early February, President Trump's solar import tax went into effect, adding 30% to the cost of solar panels. That equates to about $1500 in additional cost for the average home solar system. It's going to be hard enough to recover this pricing change and try to keep solar affordable for Vermonters. Pulling out any incentive value right now won't help.
In addition, the federal tax credit – which currently returns 30% of the value of a solar system to its owner – starts to phase out at the end of next year.
We fundamentally believe that every Vermonter should have access to solar power and the ability to take control of their energy costs.
Vermonters have been clear that our state should be powered with local clean energy – and many want the opportunity to be part of building it themselves. Whether our motivations are to reverse the impacts of climate change, or create a legacy for our children, or stabilize and control our energy costs – we should have access to solar. Creating a state policy that makes solar out of reach flies in the face of Vermonters' vision for our state.
Why not ask for a stronger solar incentive?
With the current solar rate, we were able to help more than 800 Vermonters add solar to their homes last year. And more than a dozen small businesses and schools do the same. In sum, we believe we'll be able to serve many Vermonters with the current solar program.
If you're a SunCommon solar homeowner, you deserve much credit for this continued growth. As more and more Vermonters go solar with us, we've been able to use our scale to negotiate lower and lower equipment costs and to find and drive efficiencies in our process. The movement we're building is a shared success – and we're delighted to be doing this work with you, each day.
So again, we can't afford to lower the state's solar rate and reduce the value of solar to future solar customers. But, we believe we can continue to work with today's program.
What can you do to help? Submit your comment to the PUC by Mar 15.
The public comment period is currently open and we encourage you to weigh in with the PUC! After March 15, the PUC compiles all the input they've received from the utilities, the state energy agency, the solar industry, and the public and makes their decision, issuing an updated net metering rule by May 1. The new rule will go into effect July 1.
This public input period will be our only opportunity to weigh in.
Get Started We're here to help you find your solar solution, whether that be solar at home, at your small business, or on a larger commercial structure. Click the button to get started. Thank you!
Copyright 2018 SunCommon
|
All Rights Reserved | SunCommon is a trademark registered in the US Patent and Trademark Office