We Make Going Solar Easy and Affordable
From planning and financing, through permitting, design, engineering and construction, our team goes to work for you. We make sure that every step of your solar process is smooth and hassle free. Our expert project coordinators, engineers, warehouse crew, and electricians will oversee every detail on your path to solar. And our dedicated customer service team serves your system warranty over the coming decades.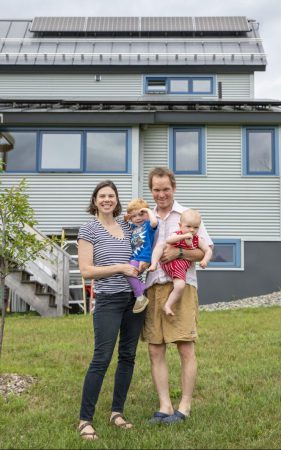 1We Visit Your Home. One of our Solar Home Advisors works with you to determine which solar option is the right fit for you.
2We Design Your System. A Solar Site Evaluator visits to collect all of the technical details. Then, our solar engineers match the highest quality equipment to your home's energy needs.
3We Line Up Your Financing. We offer low interest rates that work for you at no upfront cost.
4We Manage Your Solar Project. Our Project coordinators handle everything: they submit your permit paperwork, coordinate with your utility, order your equipment, and send out a team of installers and certified electricians to install your system.
5You Flip the Switch and Celebrate! Our installation teams install most systems in just one or two days! We walk through your system with you, answer your questions, and plan your solar celebration party!
SunCommon does their best to lower the barrier of entry to solar, and that's what sold us. We're both pretty low income, so being able to have solar panels feels like a real luxury. I've got a power plant in my yard now – I'm a power plant... That's cool! It's noiseless, it's emission-less, and the amount of money it's going to save is just mind-boggling.
As a family, we are really anxious about climate change, and want to do everything we can to invest in alternative energy, and reduce our emissions. Thanks to our partnership with SunCommon and the solar panels on our house, we're now net zero!
We are glad we chose to work with SunCommon. They have a great process that took care of everything for us from beginning to end, including financing! Throughout the process we worked with many great people that looked out for our best interest and were willing to go the extra mile. The team is very committed. Anyone who is interested in the solar option with or without heat pumps would be crazy for not doing it now with SunCommon.
SunCommon has been true to its mission. They have removed the barriers to going solar, particularly for citizens and homeowners who have never before participated in renewable energy efforts. They've made this as easy as possible. All we had to do was say yes. Energy from the sun is going to power our lives and heat our homes.
(You can read even more of our customer reviews here!)
What does solar look like?
We have helped thousands of people go solar, and we're proud of the systems we design and install. We don't mind showing them off! Check out this gallery of our work—and get a better sense of what your solar installation could look like.
Get Started We're here to help you find your solar solution, whether that be solar at home, at your small business, or on a larger commercial structure. Click the button to get started. Thank you!
Copyright 2019 SunCommon
|
All Rights Reserved | SunCommon is a trademark registered in the US Patent and Trademark Office