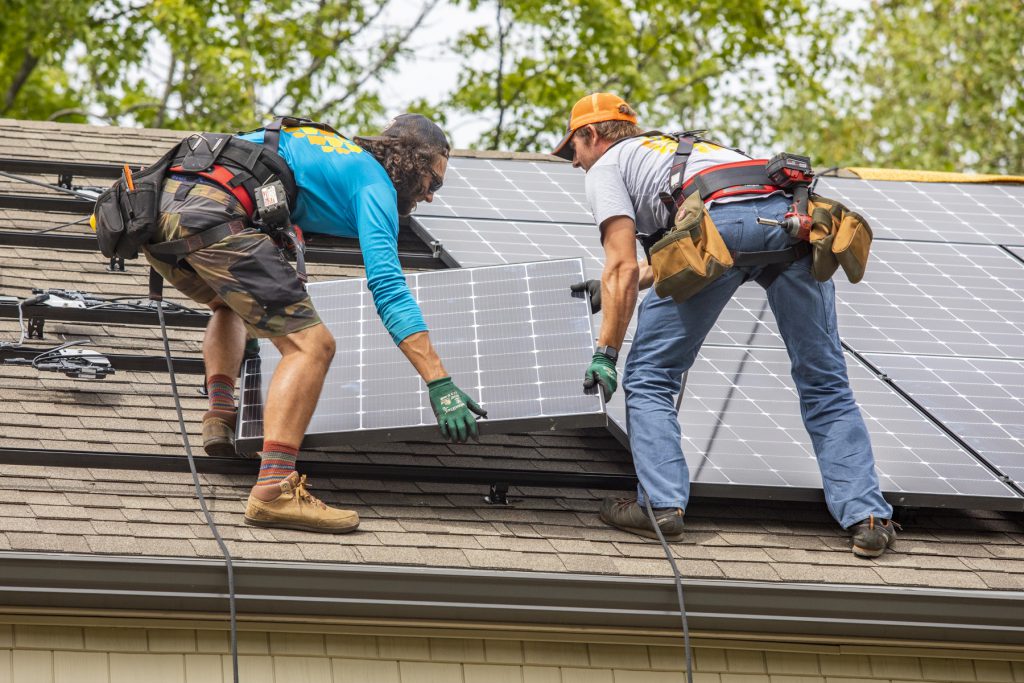 (Affordable) Power to the People
Every day at SunCommon, we look for new ways to advance our mission of tearing down barriers to clean energy and using our business as a force for good. One way we do that is by continually evaluating and implementing products and programs that make solar financially accessible to as many people as possible.
Cost is often a barrier for folks switching to renewable power, so we provide our customers with three different financing options. By keeping upfront costs, monthly payments, and interest rates as low as possible, we help our customers save thousands of dollars over the lifetime of their solar installation compared to what they would have paid their utility for electricity.
For those that can afford it, paying for solar panels outright without financing does offer the best bang for your buck. Apart from your utility's grid service fees (typically $15-30 per billing cycle), you will pay nothing, or nearly so, for your electricity every month, and you will have made an interest-free, debt-free investment in your energy-independent future. Because systems generally last more than 30 years, customers can expect to recoup the initial cost in 12-18 years. That's essentially free energy for half of the life of your solar system.
2. Short-term loans that meet (or beat) your utility bill
SunCommon has partnered with VSECU, a Vermont-based credit union, to offer financing plans with zero down-payment and interest rates low enough to match or beat what you currently pay your utility each month. Switching to a fixed solar loan payment like this can also protect you from utility rate increases down the road. And once your loan term is up, your energy is essentially free for the remaining life of your solar system. (Talk about affordable power!)
3. Even lower monthly payments
Our newest financing option through Sunlight Financial, a national energy lender, offers some of the lowest monthly payments we've ever been able to offer. What's more, Sunlight has lowered the minimum credit score requirement to 600, which opens up financing to even more potential customers. And Sunlight can finance projects up to $150,000 (versus the more standard $60,000) — this means that for solar installations requiring a new roof, you can bundle both projects into a single loan at an interest rate likely lower than a home equity loan or line of credit. And of course, once that loan is paid off, your energy is free for the remaining life of the panels.
Don't forget there are also federal tax credits and state incentives that can make your solar installation even more affordable. The state incentives are slightly different in New York versus Vermont, and all incentives and tax credits do change with time, so we suggest talking to a clean energy expert (like us!) to get the most up-to-date information.
If you're reading this, you might already be sold on many of the benefits of going solar, such as doing a good thing for the planet, or becoming more energy independent. Our aim is to make sure that going solar also has financial benefits for as many people as possible, so that we can all play a part in building a brighter clean energy future.
Ready to dig into the numbers and make affordable power a reality?
Get Started We're here to help you find your solar solution, whether that be solar at home, at your small business, or on a larger commercial structure. Click the button to get started. Thank you!
Copyright 2019 SunCommon
|
All Rights Reserved | SunCommon is a trademark registered in the US Patent and Trademark Office