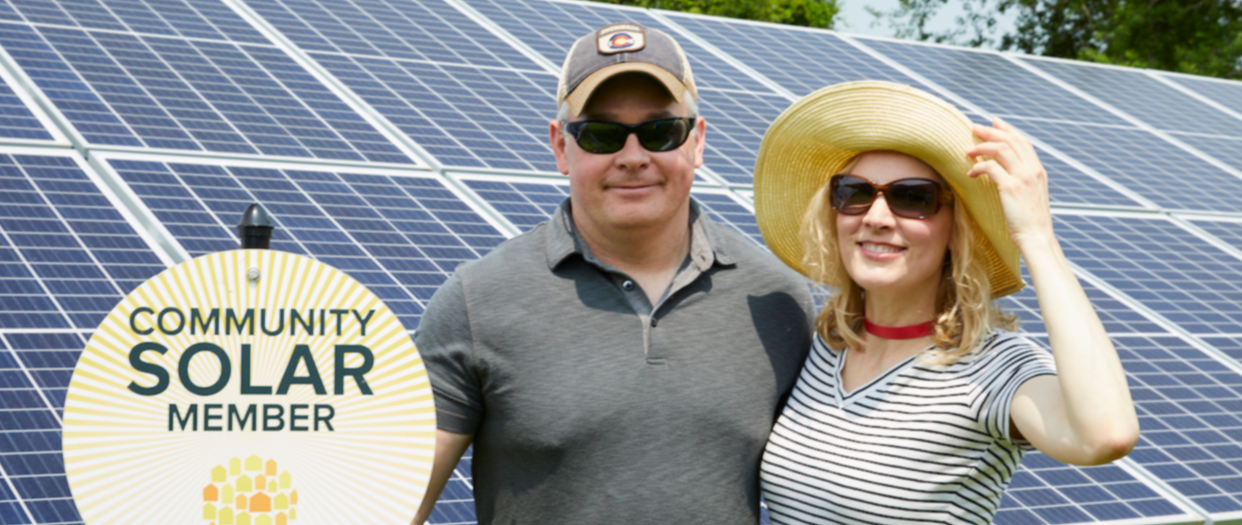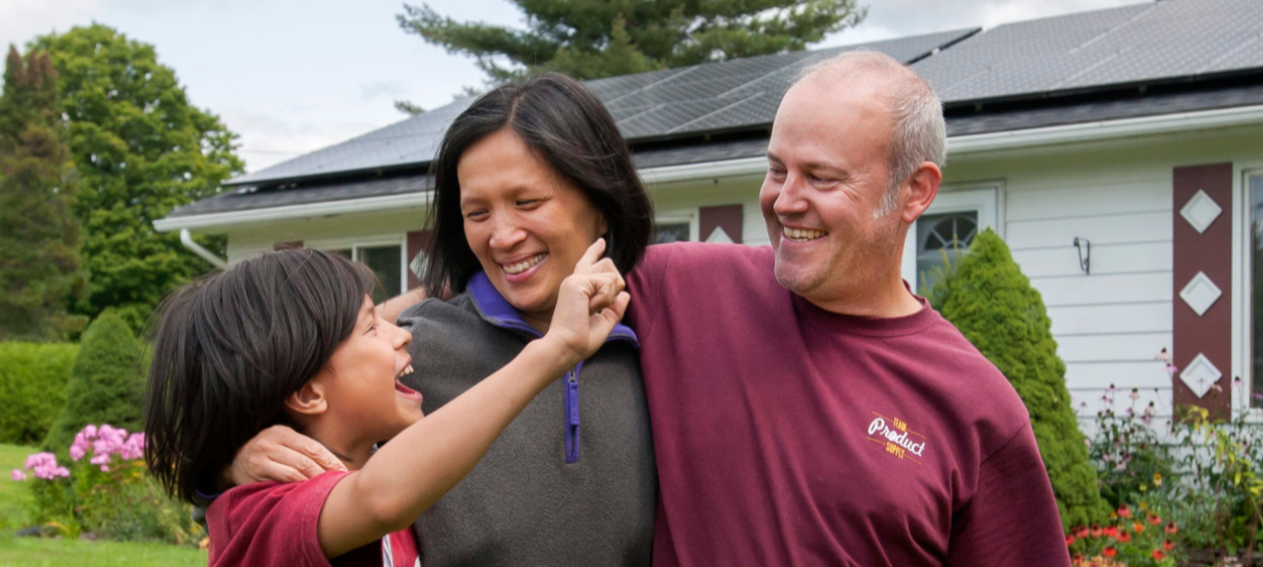 SunCommon Customer Reviews
We are incredibly proud of the reviews and feedback we receive from our customers. They are the most important voice in our business, so we're happy to let them speak for us!
SunCommon does their best to lower the barrier of entry to solar, and that's what sold us. We're both pretty low income, so being able to have solar panels feels like a real luxury. I've got a power plant in my yard now – I'm a power plant... That's cool! It's noiseless, it's emission-less, and the amount of money it's going to save is just mind-boggling.
As a family, we are really anxious about climate change, and want to do everything we can to invest in alternative energy, and reduce our emissions. Thanks to our partnership with SunCommon and the solar panels on our house, we're now net zero!
You guys made it really easy. We had one meeting and some initial paperwork and you took care of the rest. That was huge. Going solar was smooth and much easier than I expected it would be.
I was sold right away when I learned you can match my power needs with panels at the same price that I was paying Green Mountain Power. In a few years it'll all be paid for and I'll have free power.
I switched to solar to save money and become more energy independent. The more I can power my life with solar the better off I am. With the battery back-up, I can store sunshine to use during an outage making the most of my solar production.
It's going to be a great back-up system. When power goes out, obviously there are some key things I'd like to keep going, like the alarm system, medical alert, the hot water heater, the food, just in order to to bridge the gap between the outage and whenever the power gets set back again.
Thank you all for making this process so easy. We are so excited to have solar power. Let the sun shine!!
I have always had an interest in doing the right thing for my community by using renewable energy. SunCommon made it easy to go solar. I had an absolutely delightful experience working with them and haven't had an electric bill since my panels were installed in December of 2014. My only regret is that I didn't do it sooner.
Just have to say that it was a wonderful experience to work with you. We are solar and love it. Thank you for being so accommodating and responsive to our questions and concerns. You all are the best.
"We had always thought about going solar. The thing that pushed us to do it now was the financing package. It's basically not going to cost you any more than what your power bill was, and that made it worthwhile for us. Since we've put our system in, there have been four or five more SunCommon systems installed on our road!"
We thought it was a nice idea to provide solar to the community at large. We've always felt that solar and wind power is a good idea. It's always there. It's sustainable. It takes us out of the nuclear and coal situation.
I never gave it any thought until someone from the Fairlee Energy Committee asked if I had land to use for a Community Solar Array for our town. Not only does hosting a CSA help me and my granddaughter financially, but it helps the community have solar options.
I believe we need a diversity of energy solutions and solar provides a net gain for the environment. I am happy to be part of the solution
By joining a Community Solar Array, we are able to work towards energy independence while supporting our mission to educate the community about renewable energy. Solar is just a smart economic decision because it saves us some money on our electricity bill and it's doing the right thing. We have a staggering electric bill. For us, obviously it's a great benefit to offset our electricity usage but the real key critical piece is to use these as science tools, as science displays. They allow us to expand some programs we already have and to create some new ones. We're so excited to roll out an education program over the next year that really capitalizes on doing the right thing, saving money and capturing that educational value.
Welcoming SunCommon sends the message that this community is proactive in how we think about our energy production and use. When I see solar panels I see progress. We need to be responsible in understanding where our power comes from. While our convenience culture has led to an increased demand on energy, we can now turn to a new, affordable and convenient solution: solar power.
Going solar has helped us transition completely away from antiquated fossil fuels at our home, and we are at the point now that we are even considering digging up and getting rid of our propane tank. Telecommuting and a plant-based diet further ensure that our carbon and greenhouse gas footprint is minimal. Knowing that we are producing power has made us more mindful of our power consumption and needs, and we now continually strive to consume more efficiently, and therefore consume less.
I was raised to believe in alternative energy. Solar panels used to be huge and expensive, the technology had not come along to make them easy for everyone. I had heard that it was possible that private solar installations had come down in price and size and that maybe I could afford to stop giving my money to the power company every month! I chose SunCommon because I knew some of the employees there, local people I trusted. I looked around at other companies who had similar products, but my solar adviser made the process so easy. My Solar Advisor was flexible, he was able to come meet me after work and look over my house to see if solar possible for me. He followed up and made sure I understood what the process was and the time frame it could happen in. I have not paid any money to the electric company since going solar! There are three other people in my office who have gone solar too and when the sun shines, we are farmers harvesting sunlight! I look forward to doing my income taxes and taking my great solar credit!
I haven't paid anything to Green Mountain Power since March 2015 and given my current $364.20 credit, I suspect I'm unlikely to pay them ever again. I'm glad to be able to model a positive change for my children. That they'll see that we didn't accept the status quo, and that we felt driven to seek out a solution to make the world better.
We just went solar! I've been looking at solar for a couple years but was nervous about the cost of solar and didn't know anyone that had gone solar. I approached SolarCity and didn't find them to be a reputable place, so I connected with the group that did my friend's install: SunCommon. Very pleasant, very easy. Solar is an add-value to my home and makes my home standout against the other homes in the neighborhood. SunCommon was organized and had everything already created making the process much easier. SunCommon also offered a better interest rate than my credit union could get me. It was all laid out nice and easy and I couldn't argue with it. That was a huge help to make me feel comfortable with it. That's what I call a reputable company.
When my husband and I first purchased our condo in Waterbury, I was immediately interested in installing solar panels. I was disappointed to learn that at that time, SunCommon could not install panels on condominiums because of regulations. But, SunCommon offers an alternative: Community Solar Array membership. The process of joining the array was seamless. It was one of the best user experiences I've ever been through. It was completely digital and in total, took about 15 minutes. SunCommon made it easy and stress free. As the Mom of a little one, I was impressed and grateful that they respected my time. We've been members of the array for eight months now and couldn't be happier. Making the switch didn't cost us anything and we're happy to have Mother Earth benefit most of all.
Get Started We're here to help you find your solar solution, whether that be solar at home, at your small business, or on a larger commercial structure. Click the button to get started. Thank you!
Copyright 2019 SunCommon
|
All Rights Reserved | SunCommon is a trademark registered in the US Patent and Trademark Office