Our Guide to Building a House with Solar
There are a lot of advantages to building a modern, efficient, and "smart" home. Pairing efficient building design with the latest technology, like heat pumps, energy efficient appliances, solar, and battery storage can reduce your energy bill significantly, or (if you opt for solar) eliminate it entirely.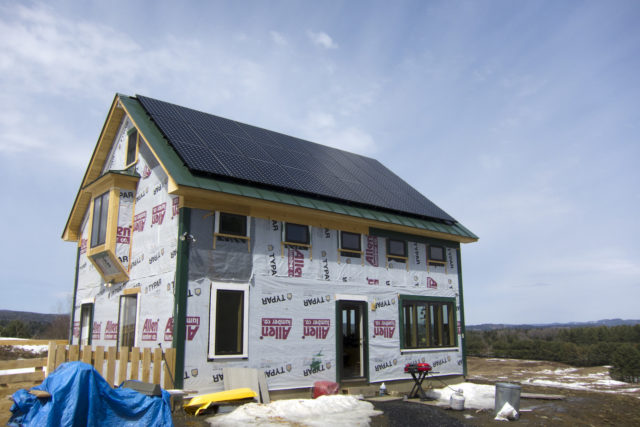 Building a new home?
Design with solar in mind! 
Solar is a smart addition for new homes, and SunCommon has years of experience working with contractors, builders, and architects to incorporate solar right into a home's design. Orientation and design can have a big impact on the efficiency of the solar system, so here are some of the details to keep in mind as you start dreaming-up the plans for your new home. To download our complete guide, use the form at the bottom of the page. 
SunCommon offers a classic roof or ground solar array, as well as the timber-framed Solar Canopy, any of which can be paired with an energy storage system.
Orientation to the Sun
An ideal roof for solar has a large surface facing south, southeast, or southwest. For a Solar Canopy or ground array, choose a sunny spot in your yard that's flat or gently sloped, ideally within 150' of your home's utility room or meter. 
Obstructions & Shading
A wide-open roof is best. Obstructions like chimneys, vent pipes, dormers, and skylights can cast a shadow and limit the space available for your solar system. Tree shading will also factor in, so it's best to have a shade-free roof from roughly 9 AM to 3 PM.
Roof Structure
To optimize solar production, a south-facing roof pitch between 30 to 35 degrees is recommended, though we can install solar on roofs up to 45 degrees. For east- or west-facing roofs, a pitch between 10 to 30 degrees is best. Any roof 10 degrees or less will require a professional structural review to verify the roof can accommodate the added weight of a system.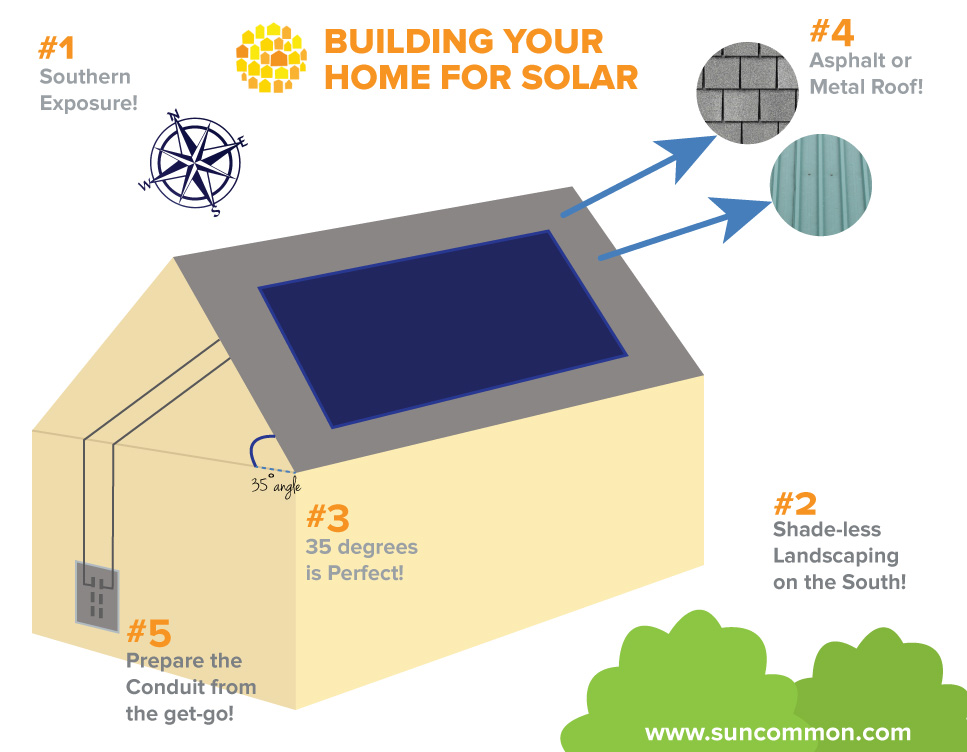 Standing Seam Metal
SunCommon only works with mechanical single or double lock standing seam roofs. These roofs are ideal because they will last as long as your solar system (25+ years). Our design team can work with your roofing contractor to install junction boxes, which will allow the wiring to be concealed and hidden. 
Asphalt Shingles
We recommend a 30-year rated shingle. Talk to your contractor about using a minimum of 1/2" OSB or ⅝" plywood sheathing on the roof. 
Corrugated & Ribbed Metal
Solar can only be installed on corrugated and ribbed metal when a minimum ½"sheathing (plywood/OSB) is present. Please get in touch with us before selecting corrugated and ribbed metal and we'll discuss options that can accommodate solar.

Electrical
Arguably the most important element of any solar design. Please let your electrical contractor know right away that you are planning to incorporate solar into your new build. If SunCommon is involved in the process early on, we can work with your contractor to choose equipment that is preferred for solar interconnections. 
There are several electrical components to consider as it relates to solar: service size, main service panel location, utility requirements and existing utility infrastructure. A main breaker is required in the main service panel—no exceptions. Additionally, all projects require exterior utility equipment, such a production meter and system disconnect. For roof mounts, we strongly recommend including a 2″ conduit chase from the attic to the main service panel. To utilize this, our installers need access to your attic, and must have a clear working area by the main service panel.
To learn more and view specifics, complete the form below to download our complete Building a House with Solar Guide, or give us a call at 802-882-8170.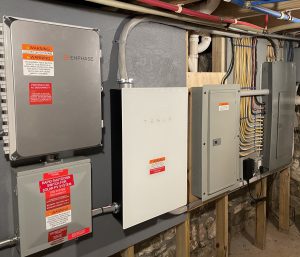 ---
Ready to get started?
Use the form below to download the complete
Building a Home with Solar Guide
1. The Roof (Azimuth)
A west-facing roof isn't a dealbreaker anymore
Let's start with the roof.  An ideal roof has a large, uninterrupted surface facing south, southeast, or southwest.  However, given advances in solar module technology and efficiencies that make them more affordable, a purely due-south roof is no longer a prerequisite. A well-producing solar home should have an orientation or "azimuth" within 90 degrees of true south. The closer the solar azimuth is to 180 degrees true south the better the system will produce. Roof angles are also something to consider. A roof pitch between 5 and 12 is ideal. The lower the slope, the less production you will see in the winter.
A good roof for solar is an empty roof; uninterrupted. That means keep your chimneys, vent pipes, dormers, and skylights away from that nice big southern expanse! We can work around these things if we have to, but if you want to maximize production, have wide-open spaces.
2. Trees
Shade on panels means less production
When you're deciding where you want to put your home on your land it is best to avoid any trees on the solar side.  Planting a gorgeous maple in front of your array will mean shadowed solar panels in a few years.  Go ahead and tuck the northern side of your home into the trees, but any tree that casts a shadow on your solar roof for any significant portion of the day is no good for your system's production.
3. Roof Material
Anything but cedar and slate
Roof composition really matters when building a house with solar. Asphalt shingles or metal roofs are great, slate and cedar shingles are a no go.
With asphalt roofs, it is important to choose a shingle that will last as long as your solar system. A 30-year rated shingle would be best. A minimum 3/8" sheathing on the roof is recommended. Standing seam metal roofs are ideal because the roof material will last as long as your solar system. Corrugated metal roofs are also an option. Our solar attachments are happiest if your corrugated is installed directly on top of plywood decking.
4. House Electrical
A benefit of incorporating solar into your new construction is that we will often be able to integrate the wire or pipe run into your building. We will work with you or your contractor on the specifics to make sure that you get a high-producing and aesthetically-pleasing solar system.
Our licensed electricians can run conduit and wire while your walls are open. Then, as soon as you have a roof, we'll be happy to come out, install your solar system and celebrate with you as your meter runs backwards.
5. PV Systems Add Weight
A standard PV system adds less than 3lbs per square foot on the roof. Making sure your roof can support this weight across the house is important and your contractor should be able to factor this added weight into the design.
6. What We Need From You
In order to facilitate a Design and a cost estimate for your PV system, we will need some information about your project. Some of the things we will need are:
Contractor Phone Numbers (if any)

Design/ Architectural Drawings

Structural Information

Electrical Information

Building Timeline
To summarize, when building a house with solar, you want a roof that is unshaded and free of obstructions such as dormers, chimneys, or skylights; made of solar-friendly materials such as metal or asphalt shingle; and structurally supported by accounting for the weight of the panels and leaving room for the necessary electrical work to connect the panels to your circuitry.
We hope this information will be useful while you work on your home. Remember these are strictly recommendations and you should build your home to how you prefer it. If you (or your contractor) have any questions about how to better integrate your new home project into the solar system, our engineering team will be happy to assist you!
Have any specific questions, we're happy to answer them here or via email.
Get Started We're here to help you find your solar solution, whether that be solar at home, at your small business, or on a larger commercial structure. Click the button to get started. Thank you!
Copyright 2019 SunCommon
|
All Rights Reserved | SunCommon is a trademark registered in the US Patent and Trademark Office