Post-Install Glow: Rooftop Solar in Hinesburg
Wayne Maceyka worked for SunCommon for three years before he decided to go solar. And once he did, he never looked back. Read the reflection he wrote below!
It finally happened.
Our family went solar!
After working for the largest solar installer in the state of Vermont for going on three years, it's about time, right?
We were working on it for a while – moved into the new house in the spring, first child starting Kindergarten (big deal, right?) in the fall, furniture, little bit of pre-move in renovations, including the addition of a wood stove.
I mean, we did move to Vermont from the Boston area, the wood stove was an option in the "Vermont Welcome Package" that included a 10-year-old Subaru, Heady Topper, and a dog of unknown origin, but I digress.
Like the typical consumer, we waited…and waited…and waited and then buttoned everything up in mid-November. Easy, once we decided. And, like the typical consumer, we wanted it last week.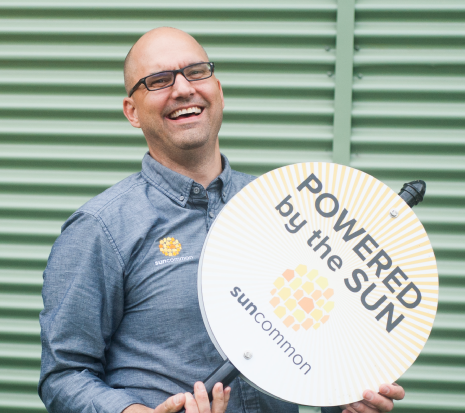 Now that it's here and it's real for us, it just feels good. When I crossed the street to take a look back at the roof and see the panels in all their gleaming goodness, I felt a little lump in my throat, I was moved. Didn't expect that. Cool. It means something.
I asked the installers to sign the plywood where our new inverter unobtrusively perches in the garage, an homage to how my grandfather noted work at The House in Western Mass. Commemorate. Celebrate.
We're changing the narrative about how we power our lives and invest our money. With VSECU providing the local financing we're plowing our hard-earned capital back into our local economy. VSECU was recently named to the Global Alliance for Banking on Values. How's that for mission alignment?
As I looked at our first day's usage from our local utility with our five-year-old, explaining that the electricity we used today came from the Sun via our roof, I realized that our children will grow up with a fundamentally different relationship with the energy they use. Not because we're telling them, but because they're living it. That's something to celebrate.
What about you? Are you ready to make it happen? There's never been a better time…
Thank you for your submission
Someone will be in touch shortly. If you would like to expedite the process of going solar, and get scheduled for a home visit, please
click here
to provide additional information about your home.
Now that you are envisioning a beautiful solar array on your home or property, or falling in love with the idea of supporting a community solar project, you may be wondering, how does solar work? The basics of solar are relatively simply. Find out how solar works by clicking below.
Get Started We're here to help you find your solar solution, whether that be solar at home, at your small business, or on a larger commercial structure. Click the button to get started. Thank you!
Copyright 2019 SunCommon
|
All Rights Reserved | SunCommon is a trademark registered in the US Patent and Trademark Office