2021 SunCommon Community Service Day
For over a year now, much of the SunCommon team has been working remotely, and all-staff gatherings have been suspended. But graced with good weather and increased access to vaccines amongst our staff, we paused operations for a day to give each other the opportunity to reconnect after a year apart, provide service to our community, and expand our mission impact by planting carbon-sequestering trees.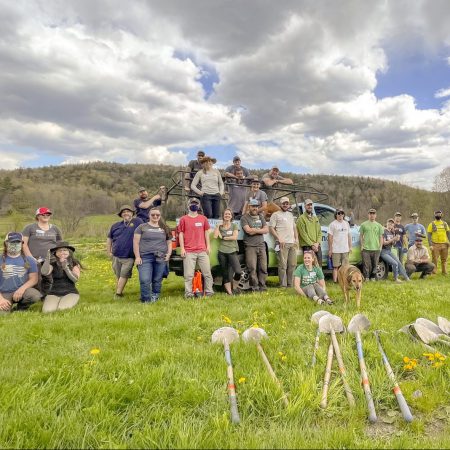 On May 14th, 130 SunCommoners spread out across 8 different sites across Vermont and New York and worked with local conservation groups on a range of projects to expand sustainable ecosystems and clean water systems.
From planting pollinators at a CSA site to planting trees along riverbanks, our efforts allowed us to connect with the land and with each other. Below are some of the stories we captured.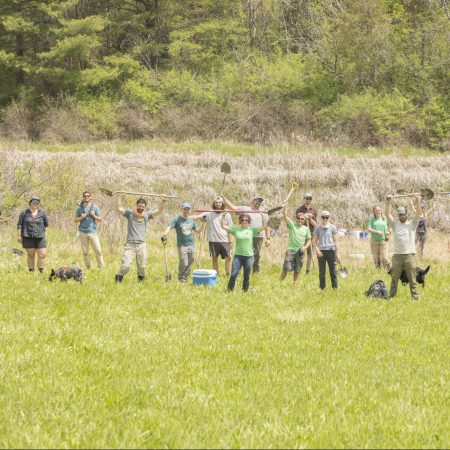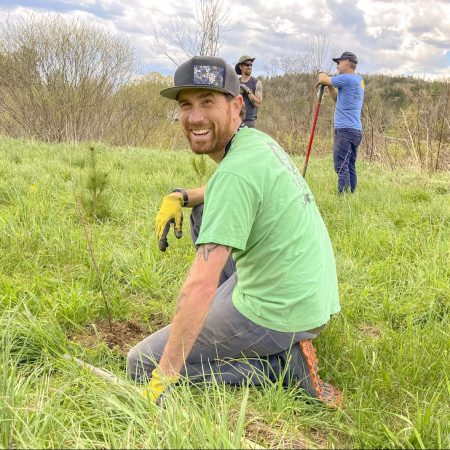 Pollinator Planting in Kingston, NY
In 2019 and 2020, SunCommon installed two Community Solar Arrays at the Pointe of Praise church in Kingston to provide affordable, clean energy to the church and its parishioners. As part of our service day, we planted a pollinator garden at the newer array for the bees and butterflies, and to beautify the area.
Flood Plain Reforestation & Carbon Sequestration in Jericho, VT
Planting trees not only helps with flood resilience, it is also the biggest and easiest way to capture carbon dioxide from the atmosphere to mitigate climate change — so, a natural fit for SunCommon! Between three sites in Vermont, we planted over 3,100 trees (obliterating our previous tally of 1,200 in 2019) through our partnerships with Friends of the Winooski River and the Vermont Land Trust.
Tree and Shrub Planting at Esopus Creek, NY
In partnership with The Kingston Land Trust, we tackled a variety of conservation projects along the Esopus creek! Our efforts will help address climate change through carbon sequestration as well as mitigate flooding. The team also connected with their work on a deeper level by recognizing the indigenous history of the land.
Tree Planting in South Burlington, VT
We planted trees on a parcel of land conserved by the Vermont Land Trust to create "functional buffers." These areas help protect wetlands and floodplains from further erosion, improve fish and bird habitats, along with so many more benefits. Learn more here.
There are so many ways to do your part in addressing the climate crisis. Planting a tree is one way. Going solar is another.

Get started today.
The Importance of People Power:

Q&A with Local Artist, Crystal Stokes
Crystal Stokes is a Morrisville, Vermont native with a gift for the arts. As a lover of nature, family, and knowledge, Crystal's upbringing in Vermont was dynamic, and as a biracial woman and artist, she has leaned on her work to express her thoughts and find beauty in the world.
Crystal has been creating realistic portraits since she was in grade school and was recently chosen to produce a very special piece for the Alchemist Brewery's new "People Power" Beer, with proceeds benefiting the ACLU.
Zoila Stokes, SunCommon Solar Advisor and sister-in-law to Crystal, hosted a Q&A session with Crystal earlier this week to discuss her inspiration behind the People Power can, the importance of local Certified B Corporations (like SunCommon and the Alchemist), and what this project means to her.
(Note: A full-text version of this interview is available below.)
Using Business as a Force for Good
---
Certified B Corporations are businesses that meet the highest standards of verified social and environmental performance, public transparency, and legal accountability to balance profit and purpose. B Corps are accelerating a global culture shift to redefine success in business and build a more inclusive and sustainable economy. Learn about "How We Roll" as a Certified B Corp here.
Q: Have you always been involved with art? When did you start?
A: I started drawing when I was young, as most of us do. I've always been artistically inclined, but in my mind, it was more of a form of therapy than an idea for a career choice. It wasn't until 2013 that I actually allowed myself to take the time and explore pencil in charcoal and started sketching portraits. A year later I went to the store and bought some inexpensive black and white acrylic paint and taught myself how to work with the medium to create the photo realistic portraits I paint today.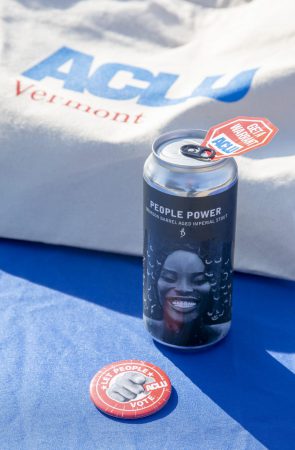 Q: What mediums do enjoy creating in most?
A: I prefer working with acrylic black and white paint. The pigments meld well together, allowing more to the imagination and providing a sense of duality.
Q: How did you get involved with this project for the Alchemist?
A: A few years ago I was reading through the Seven Days newspaper and I stumbled across a call to artist for a keg painting event at the Alchemist. I submitted my work and was then asked to be a part of the event. Since then, I've worked with Jess Graham, the Art Director, and the Alchemist off-and-on until they reached out to me a few months ago to see if I wanted to create the label for the People Power collaboration.
Q: What was your process creating the art for the can? What inspired you?
A: Art for me has always been an extremely therapeutic and personal process. It's a place I can go to, and feel safe within my own skin. This is a feeling we don't all have the luxury to experience. When I was asked to collaborate with the Alchemist to benefit the ACLU, the first word that came to my mind was 'safety'. I close my eyes and imagine what it would be like to truly feel safe in my own skin, without the judgement and opinions of others consuming my thoughts.
Q: What does it mean to you personally when you see your art being put out into the world, all while contributing to a great cause?
A: Creating this piece was not an easy process; there's so much emotion that came up. Insecurity, vulnerability, happiness, sadness, anger, and frustration. With all the emotion that comes up, I sometimes [find it] really hard putting my work on display. An artist friend of mine recently said, 'A piece is not truly finished until it is exposed'. I have recently worked this into my artistic process and I am so grateful to have the opportunity to expose this piece to the world.
We have all experienced such an enormous shift this year, so many things have happened we could not have imagined possible. In a positive light one of those things for me was this opportunity. Had this been last year, this opportunity might not have presented itself. This to me says that our world is evolving and I'm really happy to evolve with it.
Q:

What role do you see Certified B Corporations playing in driving forward equity and inclusion?
A: I can't speak for all B Corps on what they can do to drive inclusion. I do know that having conversations like the one we are having now is a great first step. Asking yourself what you can learn from a situation that might be somewhat vulnerable instead of placing the responsibility on the other person to change.
Being empathetic is not always something that comes natural to us all. One thing that has helped me become more empathetic is showing up for a conversation and leaving my emotions at the door before I walk into the room. Pausing, listening, paying attention to eye movement, body language, and tone, as well as being completely and emotionally available whenever possible have also been helpful tools. We are all continuing to evolve together, whether we like it or not, and I think there's so many opportunities for us to acknowledge our weaknesses and strengths and grow stronger together.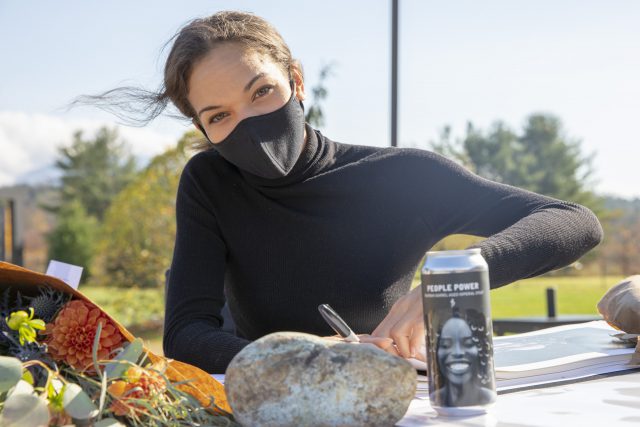 ---
Looking to make a positive impact on your corner of the world? Find out if solar is right for you:
Thank you for your submission
Someone will be in touch shortly. If you would like to expedite the process of going solar, and get scheduled for a home visit, please
click here
to provide additional information about your home.
We've Pulled Together a List of Our Favorite Climate Related Costumes for Halloween. 
Looking to make a big statement this Halloween? Want to show that you are climate conscious with your choice of costume? Looking to dress to impress? We've got you covered. We pulled together the best climate costumes for Halloween.
Over the years, our uber-creative staff here at SunCommon has come up with some pretty clever costumes related to climate change. We wanted to share with you some of our favorites.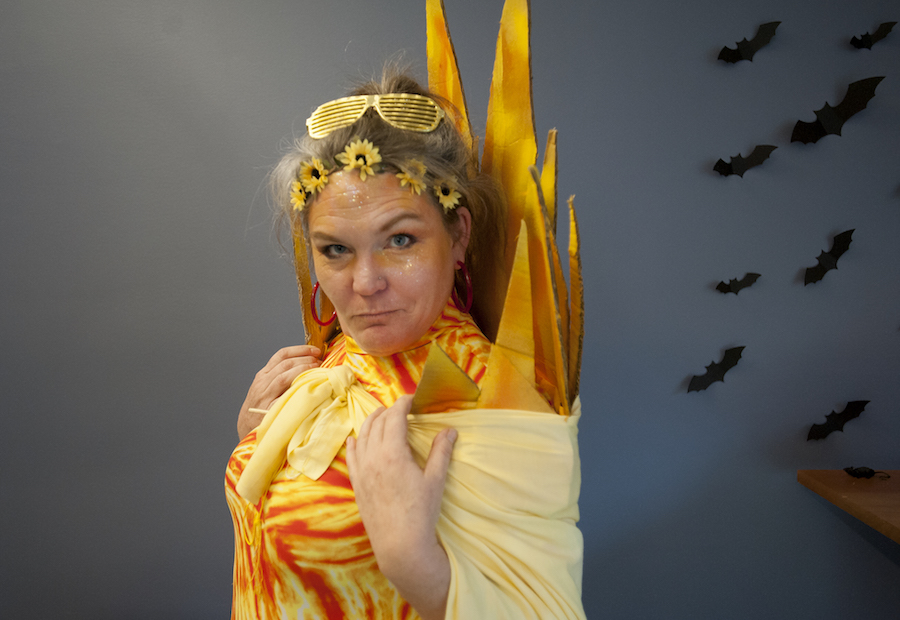 The solar goddess is a great choice for anyone with some serious pizzazz and the right attitude. With some tie dye, some bright pops of yellow and orange, and a headband of flowers, you can let that inner goddess shine.
Supplies Needed:
Bright colors
Flower headband
Lots of glitter…. I mean lots.
---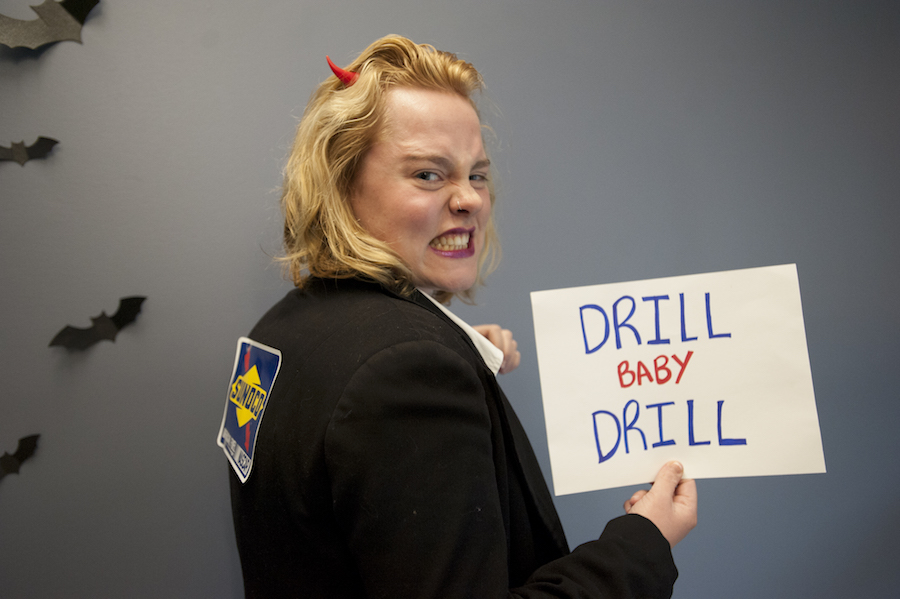 Looking to play the villain? Nothing says spooky like ignoring scientific data and setting dinosaurs on fire. As CEO of Big Oil, you'll be expected to act the part. Be the boss. Forget those hippies and their "clean energy."
Supplies Needed:
Business suit
Oil/Gas company logos
Devilishly good looks
---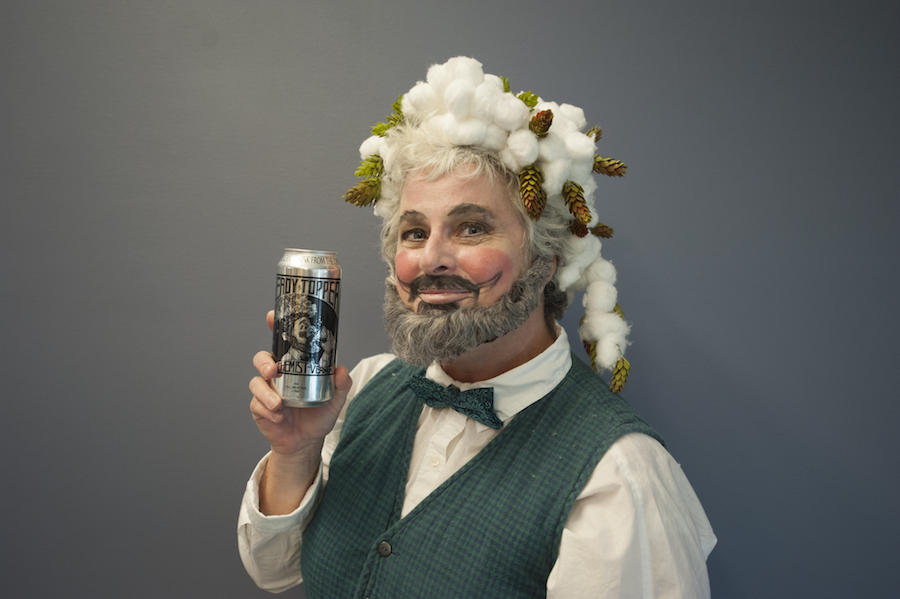 Curious why this made the list? Well, we've got some news. The Alchemist Brewery is going solar! This means that you'll be able to dress up as your favorite can of beer and still show your support for the clean energy movement.
Supplies Needed:
Lots of pinecones and hops for your hair
A Heady Topper in hand
Rosy cheeks
---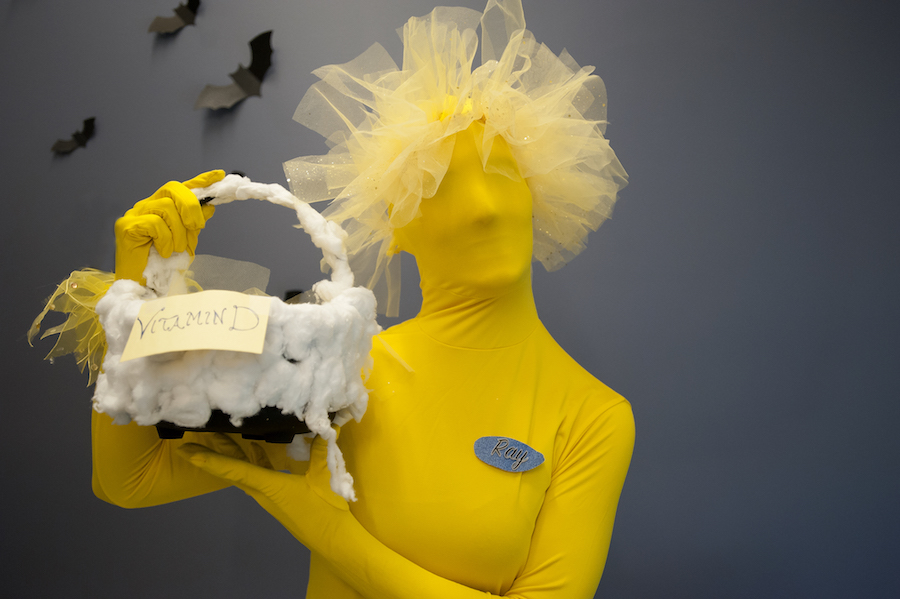 Positive people, this is the costume for you! Have you been described as a ray of sunshine in your everyday life? Well it's time to embody that positive energy. You'll just need a yellow body suit, and you are good to go.
Supplies Needed:
Yellow body suit
Yellow tutu
Heaps of positivity
---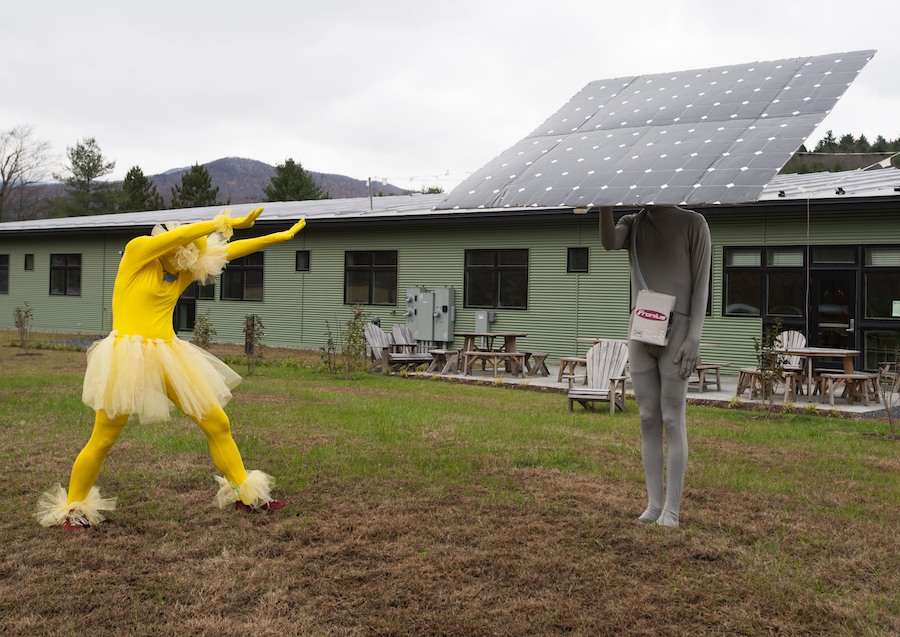 Okay. So you are one of those literal people, and you've got crafting skills. With a bike helmet, cardboard, and some markers, you could have a giant piece of headgear that makes you look just like a SunCommon solar array. Good luck getting through doorways!
Supplies Needed:
Gray body suit
Bike helmet
Electrical engineering skills
---