The Home of Heady Topper Inspires Solar Innovation
In October 2018, SunCommon built Vermont's first metal-frame solar parking canopy at the Alchemist Brewery and Visitor's Center in Stowe.
The Solar Parking Canopy at The Alchemist Brewery
Jen and John Kimmich, owners of The Alchemist, want their business to be as environmentally friendly as possible. We helped them out by installing nearly 400 solar panels in their parking lot.
Solar parking canopies have been installed across the country, but The Alchemist's system is the first one in Vermont, and represents an important step towards our clean energy future.
Vermont regulators want more solar installed in the "built environment," that is, putting panels on top of rooftops and other existing infrastructure. And since there aren't actually enough rooftops in the state to cover its energy needs with solar, parking lot canopies can play a key role in providing that additional surface area.
"There is plenty of pavement in this state where we could install … and really start making a dent in what we have to do as a state," Alchemist owner John Kimmich said. "Once you pave a parking lot, it's a dead space. … It's like, that's it, you've sealed that earth off from the environment. And so we need to do something with it – something smart with it. And that's where the solar panels come in."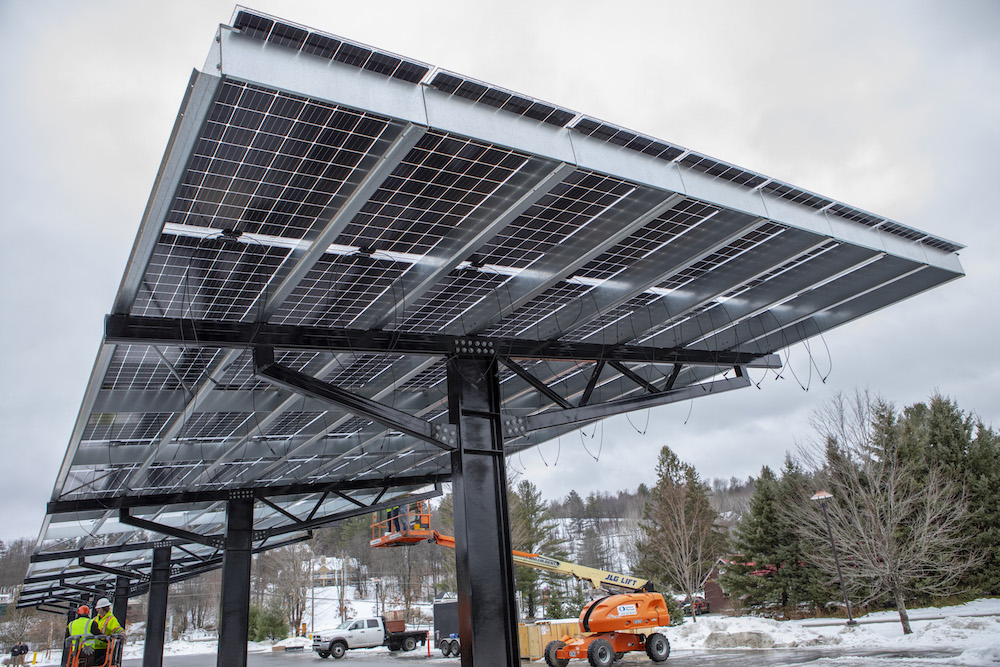 "This is a taste of what a true clean energy future looks like. Generate energy right where you use it. In this case, where beer enthusiasts park to experience some of the best craft beer in the world!"
– James Moore, SunCommon Co-Founder

The Alchemist is a family run brewery specializing in fresh, unfiltered IPA. John and Jen Kimmich originally opened The Alchemist as a 60-seat brew pub in the village of Waterbury in 2003. Afer eight years of success and growing popularity, they decided to open a small production brewery. Today The Alchemist currently operates two breweries in Vermont and handles all local distribution. For more information, go to https://alchemistbeer.com/.
Get Started We're here to help you find your solar solution, whether that be solar at home, at your small business, or on a larger commercial structure. Click the button to get started. Thank you!
Copyright 2019 SunCommon
|
All Rights Reserved | SunCommon is a trademark registered in the US Patent and Trademark Office