Going Solar in Richmond, Vermont
Why go solar, Richmond? Why now?
Richmond has embraced the clean energy revolution and is working toward aggressive energy goals. Join your neighbors in supporting the local energy economy by going solar. It's easy, it's affordable, and it's good for Vermont's economic future.
Solar in Winter? Spring? Summer? Yes! There's no better time to start your solar journey. Sign up for solar, then get ready to take advantage of solar credits in the coming months. It's clean, easy, affordable, and a great investment for your home.
Most homes in Richmond have great options and orientations for solar! Sign up for a free visit with us today, and get installed in time to enjoy the sunny skies this summer.
Our SunCommon system was installed in January and right now we have almost $400 in utility bill credits - that is even with using our new heat pump as an AC on some of our hotter days this summer. Love our solar system and the even heat in the winter and the ability to have A/C in the summer!
Thank you for your submission
Someone will be in touch shortly. If you would like to expedite the process of going solar, and get scheduled for a home visit, please
click here
to provide additional information about your home.
We scheduled a date, the trailer showed up. It was seamless. When they said they come, they came, they cleaned up and reseeded and everything looked great.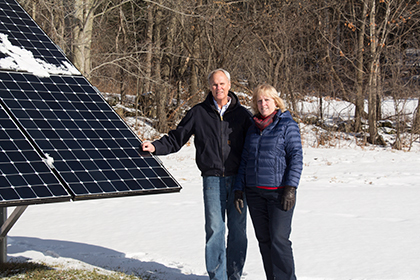 See Who's Gone Solar In Richmond
Get Started We're here to help you find your solar solution, whether that be solar at home, at your small business, or on a larger commercial structure. Click the button to get started. Thank you!
Copyright 2019 SunCommon
|
All Rights Reserved | SunCommon is a trademark registered in the US Patent and Trademark Office