Want to increase the value of your home? Go solar.
Ten thousand (10,000).

That's the number of Vermont homes that are now powered by the sun.
As Vermont's largest solar installer, we're thrilled to play our part in this rapidly growing local market—that is also a market solution to climate change. We're installing solar at a pace of 24 homes every week, and not a day goes by that we aren't all kinds of grateful to help Vermonters go solar easily and affordable at home.
But it's easy to overlook all the practical benefits of solar. Yeah, you're gonna zero out your electricity costs with nothing but renewable energy drawn from our brilliant sun. And yeah, you're gonna contribute to a reduced carbon footprint that ensures future generations get to enjoy Vermont's environment just like we do.
But guess what? You're also gonna increase the value of your home.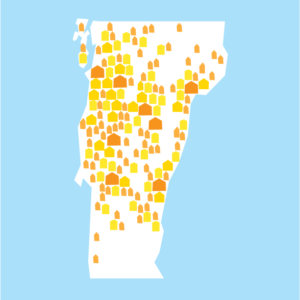 Twenty six thousand. ($26,000)
No, that wasn't a record scratch—you read it right! Going solar impacts the value of your home, and we're talking an up-and-to-the-right effect. Three independent studies have confirmed that solar increases the value of your home. Going solar means your home will sell at a premium with an average Vermont home value increase of $26,000!
Since our solar panels carry a 25-year warranty and will continue to produce power long after that, you better believe solar carries a value no matter when you decide to sell your home. Vermont homebuyers are increasingly seeking out solar, and local real estate agents can vouch. Here's Susan Zak from Four Seasons Vermont/Sotheby's Real Estate:
The market is seeing more solar homes as solar becomes a common way to power homes. Buyers are increasingly excited if there is a new solar system installed at a property.
One Million (1,000,000) Solar Homes in the US
Solar is no longer a niche market. It's a growing housing trend here in Vermont and it's creating competitive real estate opportunities for Vermont homeowners. In 2016, America's millionth solar system was installed. Yep, that means there are more than 1,000,000 solar systems in the U.S., and counting. What we're looking at here is the exponential progression from niche to necessity.
And going solar now means you'll have what a future homebuyer wants and needs.
Thank you for your submission
Someone will be in touch shortly. If you would like to expedite the process of going solar, and get scheduled for a home visit, please
click here
to provide additional information about your home.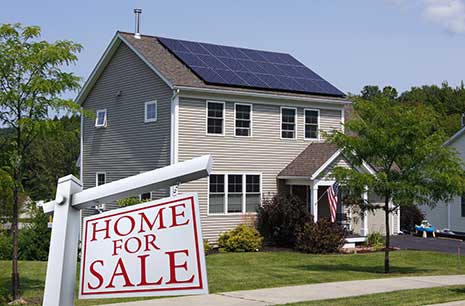 Still not convinced solar will add value to your home? Let's get down to it.
Solar homes sell 17% faster. Meaning when you're harnessing the power of the sun, you've got a hot cake of a home on your hands. If you're going to do any home improvement project, studies show that solar shows the best return on investment – hands down. But don't take our word for it—here's a testimonial from one of our customers, Laurie from Cambridge:
"Does solar help sell a home? For most, a resounding yes!"
– Clayton Paul Cormier, Maple Sweet Real Estate
We listed our home higher than the competitive market analysis and it sold quickly. To be under contract within a week certainly surprised us. Solar was definitely a selling point. Not having to pay an electric bill is pretty valuable! Our realtor was shocked we sold at full ask, and so quickly. I'd sell a solar home again!
We're Here to Help You Buy or Sell Your Solar Home
Whether you're a current solar homeowner, a homebuyer considering solar, or a realtor looking for the right houses to sell, we want to help. Our mission is to repower Vermont with clean energy by helping Vermonters go solar. It's what makes us tick, just like the electric meters that run backwards on our solar systems.
And now that we've been at this for five years, we know some of our customers are selling their solar homes, even as new folks are just jumping on board the SunCommon solar coaster. No matter where you are in the process, if you're interested in the boost that solar gives to the value of your home, we want you to contact us.
We are dedicated to helping existing and prospective SunCommon solar homeowners understand the value of their solar and their ability to market it at resale. And we're excited to chat with realtors too! We're constantly building new tools and resources for our solar homeowners, so connect with us anytime—we look forward to hearing from you.
Get Started We're here to help you find your solar solution, whether that be solar at home, at your small business, or on a larger commercial structure. Click the button to get started. Thank you!
Copyright 2018 SunCommon
|
All Rights Reserved | SunCommon is a trademark registered in the US Patent and Trademark Office