Way To Go Smart Trip Challenge: SunCommon Awarded for Energy-Smart Travel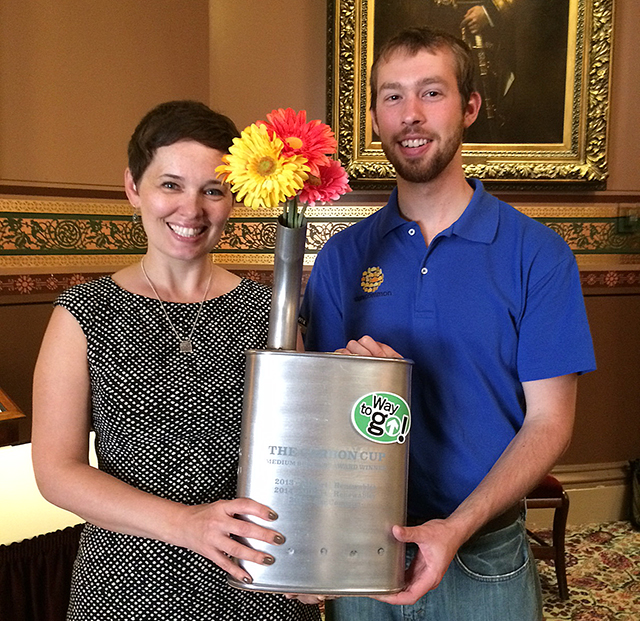 Secretary Minter helped honor top participants in
Way to Go Smart Trip Challenge 
June 11, 2015 – Montpelier, VT – Today seven teams that participated in the ninth annual Way to Go! Smart Trip Challenge were honored at the State House for reducing traffic, pollution and the cost of transportation. The teams were recognized by Vermont Agency of Transportation Secretary Sue Minter for finding alternative ways to travel for two weeks this spring. Instead of driving solo, participants carpooled, car shared, telecommuted, biked, walked, or took public transportation. Master of Ceremonies, Lori Fisher of the Lake Champlain Committee, awarded Carbon Cups to the businesses, school, community and team with the highest percentage of participants and the highest carbon emission savings.
This year the challenge was adapted to last longer and include more trip types. The Smart Trip Challenge allowed participants to log alternative travel miles for activities outside of work and school, such as running errands or going on vacation. The challenge was also extended to two full weeks this spring, which allowed participants to count energy-smart trips on weekends.
"By expanding the challenge we opened up the competition to a larger group of Vermonters and we were able to achieve even more carbon emission savings than last year," stated Way to Go! Program Manager Suzanne Elowson.
Challenge-wide Results: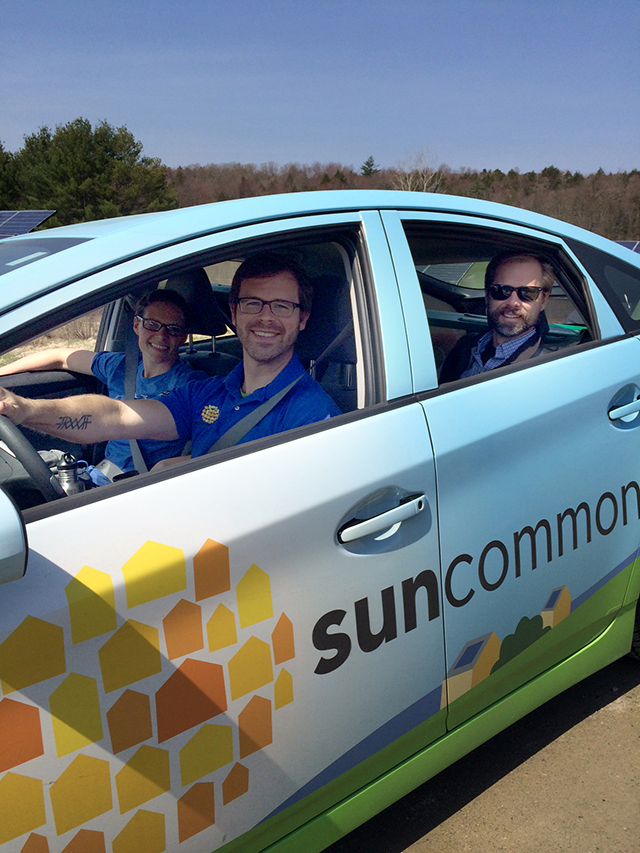 5,085 participants
206 participating teams
17 participating schools
Total miles saved: 300,773 (up more than 1000 from last year)
Estimated carbon dioxide kept from the air: 220,728 pounds (nearly 10,000 pounds more than last year)
2015 Carbon Cup winners:
Macro Business (750+ employees) – University of Vermont
Large Business (100-749 employees) – Seventh Generation
Medium Business (20-99 employees) – SunCommon
Small Business (less than 20 employees) – Vermont Natural Resources Council
School Challenge (highest verified student participation rate) – Twinfield Union School
Community Challenge (highest resident participation rate) – Montpelier, VT
Team (most carbon savings) – Jetta
Angela Smith, Happiness Resources Manager at SunCommon, explained the winning company's motivation for competing in the challenge this year. "At SunCommon we believe that everyone has the right to a healthy environment and safer world – and clean energy is where it starts," said Smith. "The Way to Go! Smart Trip Challenge was a great reminder of the impact we have on our environment every day. Vermonters spend $1 billion on transportation energy every year. At SunCommon, our crew logged nearly 15,000 carpool miles and saved 7,892 pounds of carbon from the air, but we still have a lot more work to do."
Way to Go! is supported by a wide network of 29 partner and sponsor organizations from around Vermont, including lead partner theVermont Energy Investment Corporation.