Folks are going solar for many reasons – but a huge motivator lately? Savings. Solar has never been more accessible and more affordable than it is right now.
"I haven't paid anything to Green Mountain Power since March 2015 and given my current $364.20 credit, I suspect I'm unlikely to pay them ever again. I'm glad to be able to model a positive change for my children. They'll see that we didn't accept the status quo, and that we felt driven to seek out a solution to make the world better." – Rob Friesel
The fossil fuel industry is losing ground on affordability. According to a recent Bloomberg report, solar costs continue to decrease while fossil fuel prices are increasing. As countries continue to shift to renewable energy sources, the future is grim for fossil fuels.
But where do solar savings come from?
According to the National Renewable Energy Laboratory of the U.S. Department of Energy, the cost of installing solar panels on the average home has plummeted 70 percent since 1998, from nearly $86,000 for a 5-kilowatt installation (the average residential solar array) to just $26,000 in 2014.
The solar industry is strong. And while a dramatic decrease in the cost of solar equipment has helped thousands of homeowners go solar, there's another element at play: solid government support.
The Federal Solar Investment Tax Credit (ITC) was recently extended by Congress to allow folks to receive a significant tax credit on their solar investment. The tax credit can save you up to 30% on the cost of going solar. Great! Combine that with Vermont's current net metering program and Vermonters are tapping into the most affordable solar programs we've ever seen.
"I have not paid any money to the electric company since going solar! There are three other people in my office who have gone solar too and when the sun shines, we are farmers harvesting sunlight! I look forward to doing my income taxes and taking my great solar credit!" – Daria Carden
Solar presents a different, and more affordable, way of looking at how you pay for power. Instead of paying your utility, you're putting your money toward an asset that you will own – your solar system. What does this mean for overall savings? It's big. The average homeowner will enjoy $20,000 in savings over the course of a solar system's 25-year warranty (and even more after that). Our solar homeowners tend to finance their systems with a 2.99% 12-year loan—low monthly payments that replace their utility bill Once that loan is paid off they own their solar system and its free, clean solar power. Now that is true energy independence.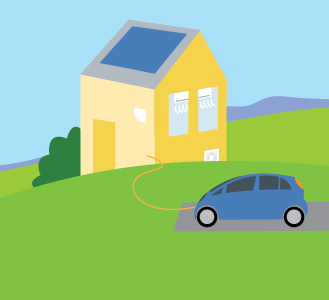 For example, meet Karen. Karen went solar at her home in Jericho and shifted her $720/year electric bill to a $720/year solar system financing. Great! The money she was paying each month to the utility is now paying off her solar system – an owned asset on her home. Karen also decided to install a solar-powered heat pump and switch to an electric vehicle. All told, she immediately enjoyed $3,280 in savings the first year by offsetting her house electric bill, heating and car fuel with solar power.
This is our energy future. Vermonters no longer need to pay increasing utility bills to power their lives. Instead, they can own their energy with low, monthly payments at a fixed rate. Solar offers predictability and security. Solar presents an energy independence that insulates Vermonters from expensive rate increases, fossil fuel price fluctuations and perpetual power payments.
Own your clean energy future and join the rooftop revolution!
"Over the last two years we have accumulated upwards of 300 dollars in credits with our power company. Of course, the economic benefit of going solar is but just one aspect of its appeal. We've had a great experience with SunCommon and love seeing those credits on our electric bill! We knew we wanted to go solar but weren't sure where to start. SunCommon made the process incredibly painless, taking care of all the paperwork and other arrangements. Thanks to everyone at SunCommon for providing such a valuable service." – Rohit Sharma