Meet Jessica Edgerly!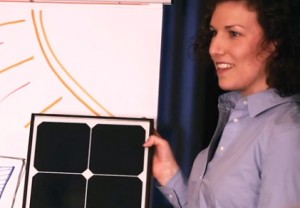 Jessica Edgerly is our Lead Solar Community Organizers here at SunCommon. With over a decade of organizing experience, she now thrives on building relationships with Vermonters to help them go solar. You may have the opportunity to get to know Jessica at one of our her many solar info sessions. Here's a sneak peak of the lady behind the action.  Meet Jessica!
You have a passion for community action, how does that carry over into your role at SunCommon?
I've spent much of my career helping Vermonters harness their passion for renewables to advance clean energy policies.  Many organizers in Vermont have shared in that work, and today Vermont has some of the strongest incentives for building renewable energy in the nation.  Now with SunCommon, I'm helping put those incentives to work.  We're Vermonters.  We know the most effective way to implement change or build something new is by coming together as community.  Simply put, for SunCommon, bringing communities together to go solar means efficiencies that translate into savings for customers.
What excites you most about SunCommon's mission?
SunCommon is about dramatically increasing the amount of solar in Vermont.  I love the idea that Vermonters can power their homes right now with sustainable, clean energy.  We're helping hundreds of Vermonters rely on their own roofs to power their homes, not Middle East regimes or out-of-state corporations.  I'm excited to be a part of building our clean energy future right here where we live.
What are your goals as a SunCommon community organizer?
I work to spread the word about SunCommon's solar offering and show folks about how they can go solar without upfront cost or a lengthy, complicated process.  Most of the people I talk to everyday have always wanted to go solar, and are thrilled that we've finally made solar easy and accessible to them.  All in all, I get folks started on their path to solar and work with them to get their friends and neighbors involved as well.
What keeps you busy when you are not at work?
Gardening! My husband, Ben and I own half an acre, most of which is perennial beds or vegetable gardens.  It's a little thrill every spring to watch it all come up, and the dirt under our fingernails is a nice complement to our daytime office work.  I also play as much soccer as I can fit into my schedule.
What is your favorite household appliance?!
Our waffle maker!