Enphase Microinverter Guide & Troubleshooting

What is an Enphase Microinverter system? 
Some solar installations are designed with all panels directly connected to a single inverter, which turns DC electricity from the panels into AC electricity that can be used in your home. Enphase Microinverter systems are designed to convert the electricity from DC to AC, with a microinverter stationed on the back of each panel.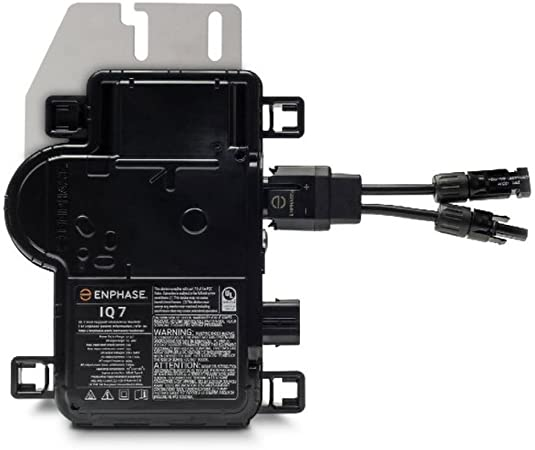 Transforms production from direct current (DC) to alternating current (AC) at each panel.

Allows for increased production and module-specific monitoring.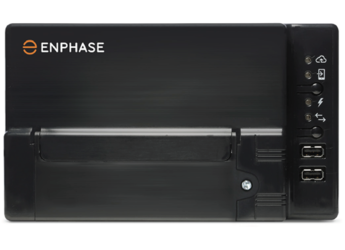 Allows you to monitor how your system is producing via your Enlighten App or your MyEnlighten Account.

Allows installer to remotely troubleshoot any issues that may arise.

Allows Enphase to remotely update your system.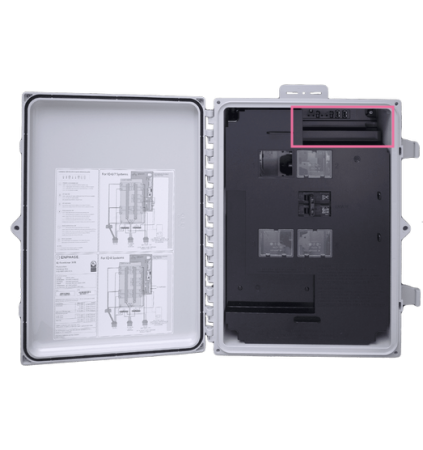 Your Envoy will most likely be installed in a combiner box like this one.

You may only be able to see the section of the Envoy with indicator lights and buttons, as opposed to the whole face.

It will look like the device inside the pink box in the picture above. 
What do the lights on my Envoy Mean?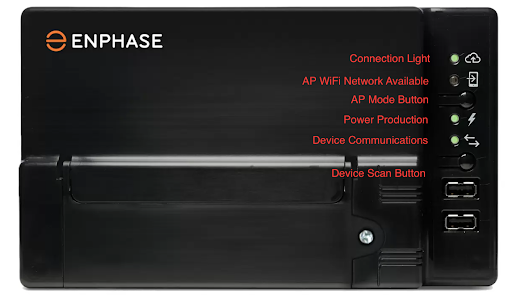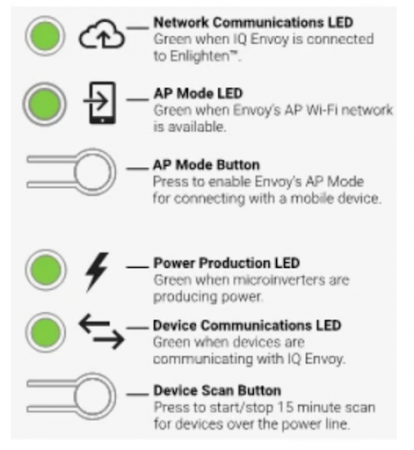 How do I monitor my Enphase Microinverter System?
Does SunCommon actively monitor my solar array?
NO. SunCommon does not actively monitor your solar system. We recommend checking on your system at least once a week to be sure it's operating properly. You can do this by logging into your online monitoring, checking your electric utility account/bill, or by checking the Envoy to confirm the green production light is solid. 
Is your array currently covered in snow?
Snow, winter shade, or leaves will inhibit production and may cause error messages to appear. Keep an eye on your system, if you are still getting the error message once your array is clear of obstructions then please reach out to us!
Have you recently changed your home WiFi network or credentials?
Here is the link to reset your WiFi.
Is your Envoy not lighting up?
Make sure the outlet (not power strip!) is working.

Unplug it, and plug it back in.

Still not lit up? Contact Customer Support.
Did you move your Envoy?
If so, please move it back to its original install location and let us know that location is no longer working for you. We can come move it for you.
Did you plug your Envoy into a power strip?
If so, please plug it directly into an outlet and make sure nothing else is plugged into the same outlet.
Are several panels in a row not producing?
Check the breakers in your IQ combiner panel to see if any have tripped. 

If a breaker is repeatedly tripping, please contact

Customer Support

.
Get Started We're here to help you find your solar solution, whether that be solar at home, at your small business, or on a larger commercial structure. Click the button to get started. Thank you!
Copyright 2019 SunCommon
|
All Rights Reserved | SunCommon is a trademark registered in the US Patent and Trademark Office