The SunCommon Checklist for Buying an Electric Vehicle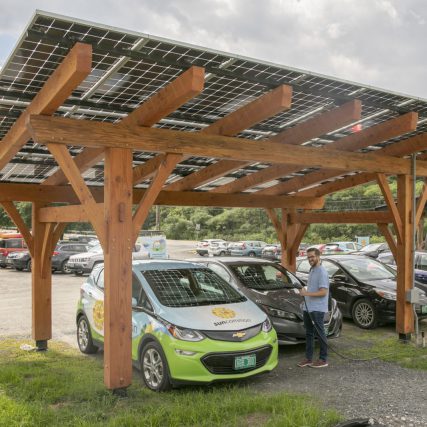 Solar power and electric cars go together like peanut butter and jelly.  
We can't have a clean energy future without getting our vehicles off of fossil fuels. AND we can't eliminate carbon emissions from our transportation and clean up our air without clean energy to power our cars.
At SunCommon we're working hard to accelerate the adoption of electric vehicles in our communities. In 2019, we created the Drive Electric Pledge, by which we committed to not purchase any more fossil-fuel-burning vehicles as long as there are viable electric alternatives. So far we have 13 fully electric SunCommon vehicles, and dozens of our staff have switched over to electric for their personal vehicles. With a couple of years of EV driving under our belts, we want to share what we've learned so far to help YOU make the switch when the time is right.
---
Here are some questions you should ask yourself before buying an Electric Vehicle:
Do I want a battery-powered electric car or a plug-in hybrid electric car?
Many car manufacturers are making two kinds of EVs: Battery Electric Vehicles (BEV) and Plug-in Hybrid Electric Vehicles (PHEV). The PHEVs have a battery AND a gas tank. These cars usually can drive 20-40 miles on just electricity, after which they will switch over to the gas tank. BEVs are all electric — no gas tank, no fossil fuels. A PHEV might be the best option for you, and it's certainly better for the environment than an all-gas vehicle. But to fully address our climate crisis, we need to keep fossil fuels in the ground, so we'll focus primarily on BEVs for this checklist.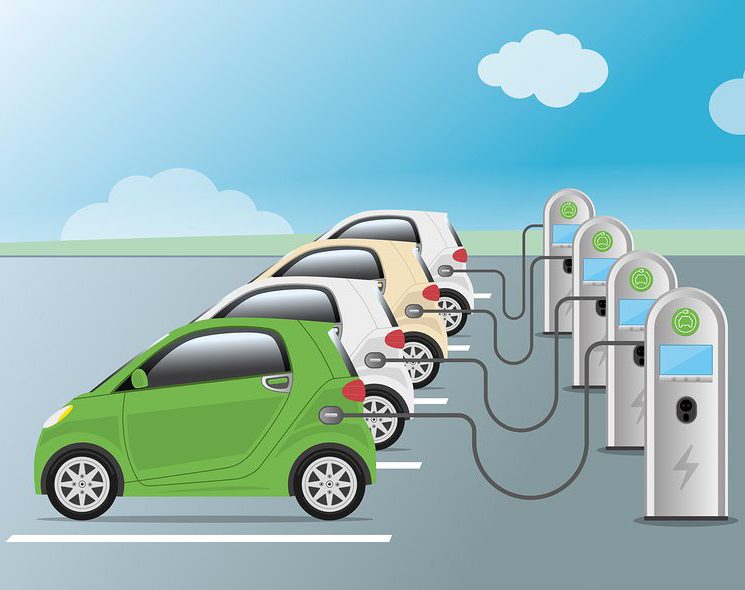 What federal tax credits are available for each model of car?
There is a federal tax credit available for electric car purchases. (If you lease your EV, the dealer gets the tax credit.) The tax credit amount can be as high as $7500 and depends on the make and model, as well as on the total volume of cars that each individual car manufacturer has sold. The maximum tax credit for a particular vehicle is available up to the first 200,000 cars sold. Six months after hitting 200,000 sales, the tax credit is cut in half, and is halved again after another six months. After an additional 6 months, the credit goes to zero. FuelEconomy.gov has all vehicles listed with their available tax credits to help you with your search. As of September 2020, the only car manufacturers that have sold over 200,000 vehicles are Tesla and Chevy.
Are there other tax credits or rebates I need to be aware of?
Yes! The two other places you want to look for discounts on your electric car are those offered by the state and by your local electrical utility. Specific car manufacturers may have additional discounts as well. These rebates change frequently as they are generally offered in smaller batches. Plug-in America has a good website for sharing all of the rebates that are available for interested EV drivers.
Do I want to lease or buy a car?
The primary consideration here is whether the car's current electric range and features will work for you for the longer term, or whether you'd prefer a shorter commitment. The majority of EVs right now are small to midsize sedans with a range between 150-250 miles. EV manufacturers are promising that new crossovers, SUVs, and trucks will hit the market starting in 2021 into 2022 with expected ranges near 300 miles. That is currently just speculation, so it may take longer. Also, as we mentioned above, leasing and buying are eligible for different incentives. One benefit of leasing a vehicle is that because the dealer will take the tax credits and incentives, you end up with a very low monthly payment.
What range do I need out of my car?
Before you switch over to an electric car, spend some time looking at maps to know how many miles you'll need from your EV. Ask yourself questions like:
What is your daily driving round trip?

What is the longest drive you've taken this year?

Will you need to use this car for long road trips?

Does your household have another non-EV available?
Once you have an idea of how far you'll need your EV to go on one charge, check out some cars and their respective ranges — here's a list of all electric cars on the road today with their ranges. The largest range you'll find on the road today is a Tesla Model 3 or Model S with about 330 miles in their extended range model. After Tesla, there are a handful of models by Hyundai, Nissan, Chevy, and others with ranges between 230-250. There is another group of vehicles with ranges of 75-150 miles. If you are shopping for a used EV, you'll also find that most early models have ranges between 80-120 miles. These lower range vehicles are good for a second car or a commuter vehicle but may be frustrating if you do a lot of driving.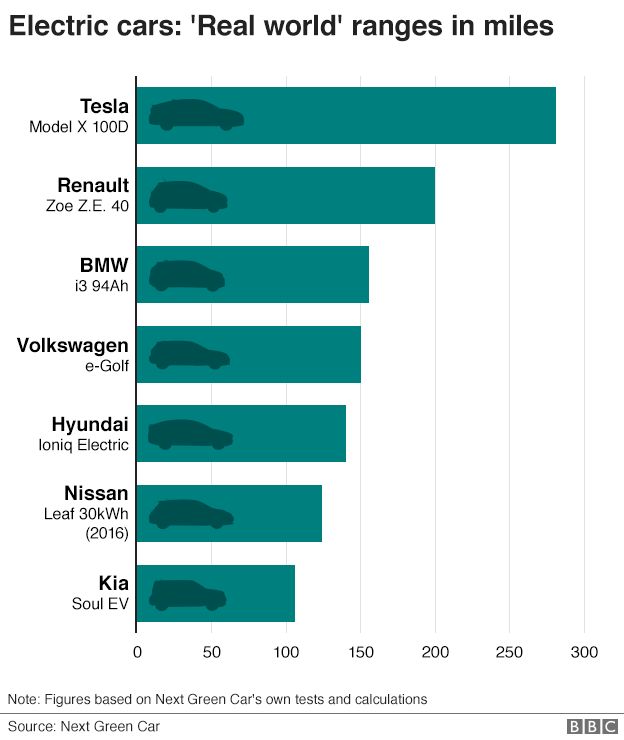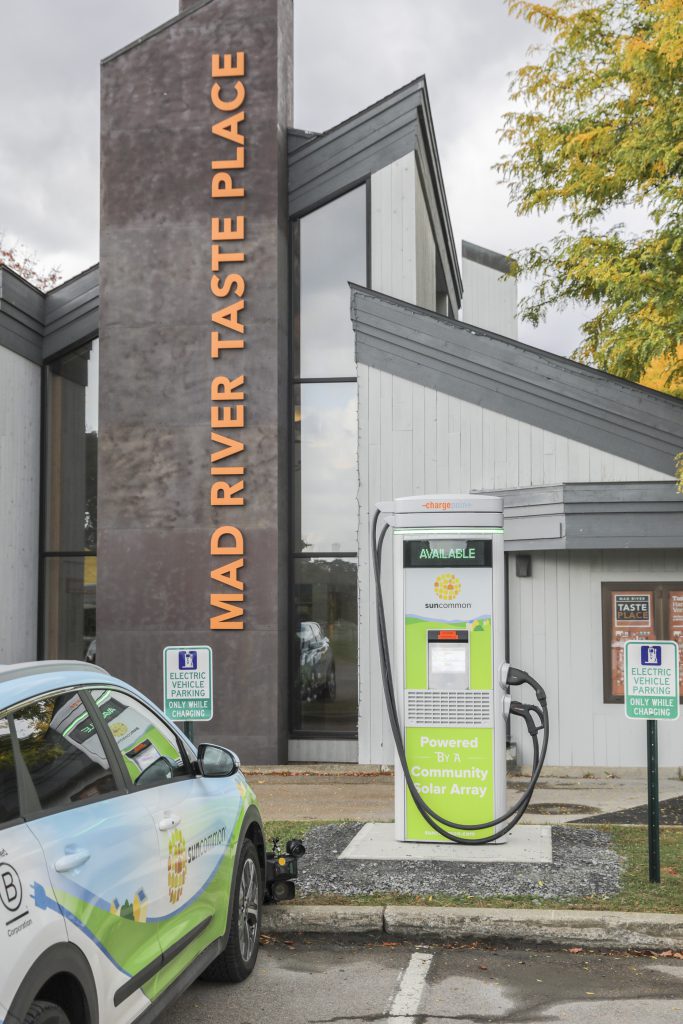 Where can I charge my car? At home? What about work?
Having easy access to charging is an important aspect of being a happy EV driver. While you may be able to get around using only public charging stations, charging at home and starting every day with a fully charged car gives you more options and removes much of the potential for "range anxiety". Most EVs will come with a standard charger (110 volts) that can plug into a standard outlet. This is a start, but these chargers generally take over 24 hours to fully charge.
The best option is a "level 2" charger (240 volts), which you can have installed at your home. This is the same plug as a dryer uses and can fully charge your car in about 8 hours. Businesses and public buildings are increasingly installing level 2 chargers in their parking lots for the public to use, which is a good option if you don't have a charger at home. There is an expanding network of public level 2 chargers, and also "fast chargers" which can charge your car up to 80% in 30-40 minutes. (Check out the one we recently installed in Waitsfield, VT!) There are considerably fewer public fast chargers, but we are seeing more of these popping up recently. Here's a map to look up all the charging options near you! 
Does my utility company have any special rates for charging EVs at home?
What else should I know about electric cars?
When you're looking at the cost-benefit of electric cars versus traditional fossil fuel cars, you could also consider maintenance costs. There is a lot of information out there, but the latest research says that EV maintenance costs are about 50% of regular gas cars. With no internal combustion engine, fewer liquids to circulate, and the regenerative braking system, oil changes aren't necessary and there are simply fewer components to fix and replace.
---
If you ask an EV driver if they're happy they made the switch, you'll mostly likely hear a resounding "yes!" Once you get used to it, driving an electric car feels like a no-brainer. It's cost competitive with a typical gas burning car, it's a smoother ride, it's cleaner, it's cheaper to maintain, and it's more fun to drive. And reducing our dependence on fossil fuels relies on all of us making this switch. So do your research and test drive one of the many EV models available to you. You'll be happy you did.
Get Started We're here to help you find your solar solution, whether that be solar at home, at your small business, or on a larger commercial structure. Click the button to get started. Thank you!
Copyright 2019 SunCommon
|
All Rights Reserved | SunCommon is a trademark registered in the US Patent and Trademark Office