A Guide to Your Central Hudson Bill with Solar
You've gone solar! Here's how to interpret your Central Hudson bill with solar…
Solar credit will appear on the first and third pages of your Central Hudson bill.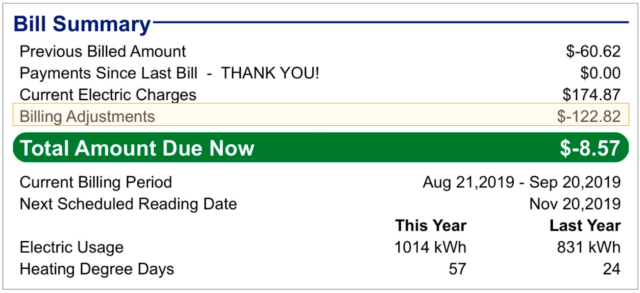 Please note that the "Billing Adjustments" line item may encompass more than just solar credit if there are additional adjustments made to your bill. To see the exact amount of solar credit applied to your bill in a given bill cycle, please see the bottom of page 3.
Payments and Adjustments – page 3

Banked Solar Credit
In months when the value of your solar credit exceeds the sum of your supply and delivery charges, Central Hudson keeps track of any solar credit that is banked on your account. This does not appear on your bill but can be viewed at your Central Hudson account online.
My bill doesn't look like this. ​
Utility companies can change how this information appears, so if your bill doesn't look like these examples, don't worry. Give us a call and we'll help you figure it out.
Solar production varies month-to-month.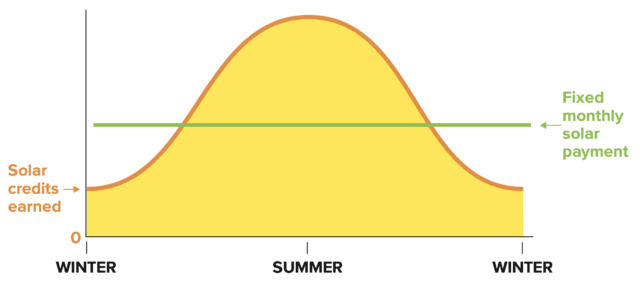 CSA members have a predictable,
fixed monthly payment through the ups and downs.
Frequently Asked Questions
If you have questions about how to read the rest of your bill call Central Hudson at 1-845-452-2700 or 1-800-527-2714​.
For more information, visit mysuncommon.com or

call the SunCommon Customer Support Team at 802-882-8685
Get Started We're here to help you find your solar solution, whether that be solar at home, at your small business, or on a larger commercial structure. Click the button to get started. Thank you!
Copyright 2019 SunCommon
|
All Rights Reserved | SunCommon is a trademark registered in the US Patent and Trademark Office