You've gone solar! Here's how to interpret your Central Hudson bill with solar…
Solar credit will appear on the first and third pages of your bill.
On page 1 you'll see a complete Bill Summary. Your solar credits will be included in the "Billing Adjustments" line item, however, this line could include more than just solar credits if there were additional adjustments to your bill. To see the exact amount of solar credit applied to your bill in a given bill cycle, please see "Community Distrib Generation Credit" at the bottom of page 3.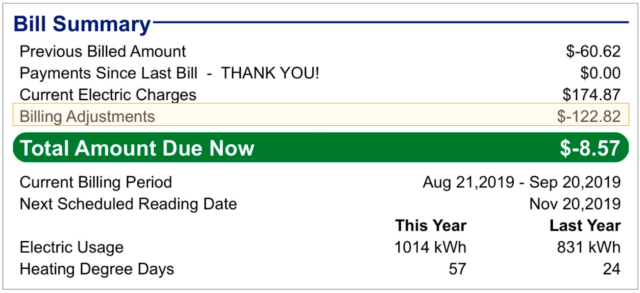 Page 3 – Payments and Adjustments

Solar production varies month-to-month.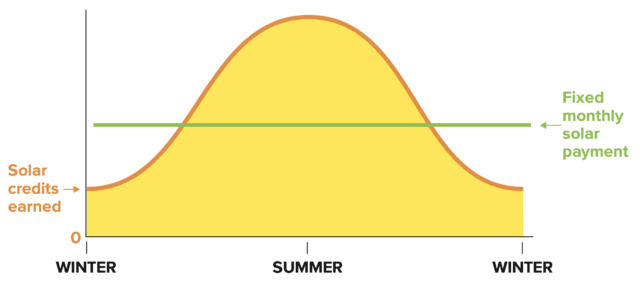 Solar credits are determined by how much solar is being produced in real time, so they'll fluctuate with the seasons. In the summer, when the days are long, and sunlight is more direct, the CSA is producing a lot more electricity than in the winter when the days are shorter and darker. 
In months when your solar production outpaces your electricity usages, you'll have a surplus of solar credits that will rollover and be applied to next month's bill. Please note: you won't see banked credits on your bill, but rest assured, Central Hudson is keeping track. If you would like to see how many credits you have banked, contact our Customer Support team.
CSA members have a predictable, fixed monthly payment.
Your SunCommon CSA subscription is determined based on your historical annual electricity usage. Using that information we're able to estimate the cost of your yearly Central Hudson bill. Then, that number is plugged into the value stack calculator to estimate the value of your solar credits (and your SunCommon payment). Since this amount was calculated based on a year's worth of electricity, we divide by 12 and voila, we have your monthly SunCommon payment! Calculating the value of solar credits in this way allows you to have a predictable SunCommon payment each month. 
Frequently Asked Questions
CCA stands for Community Choice Aggregation. It's a way for your local elected officials to choose a third party company to supply your electricity instead of the utility. Your utility will continue to deliver your electricity. Most CCAs strive for some savings with renewable energy.
Can I have a Community Solar membership and participate in the CCA?
Yes, you can have both.  The CCA may lower your overall monthly bill a little, by lowering the "supply" part of your bill. The CSA credits will appear as a separate line item on your bill, and will help offset the sum of the basic service charge, delivery charges, and CCA supply charges on your bill.
How is a CCA different from a SunCommon CSA?
By participating in a SunCommon CSA, you are choosing to purchase your electricity from a specific local solar project. The local solar array will produce electricity and feed it directly into the utility grid so you can benefit from monthly credits reducing your electric bill. CCAs are managed by a third party administrator that work with several different Energy Service Companies and Distributed Energy Resource providers to aggregate a mix of renewable energy sources.
SunCommon works alongside CCAs because they help support renewable energy sources, even if they are far away from your home. CCAs also help provide more local choice and control over energy sourcing and production. SunCommon installs local residential, commercial, and community solar systems to help you create clean energy right where it is used. We believe that everyone has the right to a healthy environment and brighter future—and renewable energy is where it starts.
Copyright 2013 Nimva | All Rights Reserved |
RockyThemes