Featured Solar Homeowners: Shannon and Melissa Haggett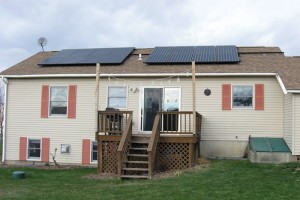 In the Spring of 2012, Shannon and Melissa Haggett saw the story of SunCommon launching on WCAX and were intrigued by the idea of going solar with no upfront cost. Shannon hopped onto his computer, went to our website, and clicked on the get started tab that night.  This was before SunCommon was in Addison County but by signing up he helped bring us there first and now his system is up and running!  Shannon, Melissa, and their two children live in Vergennes and Shannon is chair of the local Planning Commission.  We're happy that Shannon and Melissa were one of the first families we helped go solar in Addison County, and here's what they have to say about it.
What had kept you from going solar before?
For me, it was really the cost and the lack of personal expertise that kept me from going solar before. I had casually looked into going solar, but I wasn't sure what to do – how big a system would I need? Would I need to "be off the grid" and just use what I produced? Would I need to warehouse a bunch of batteries to store the energy? How do I hook up an inverter? Things like that…. SunCommon not only resolved the barrier of initial cost of the system through their lease arrangement, they walked me through how the process would work and made it really easy.
What are you looking forward to about having solar?
We're looking forward to not only reducing and possibly eliminating our electricity bill permanently, we're excited that we're doing it in a way that is environmentally friendly. Additionally, having the system here means that we're less reliant on energy that is generated elsewhere – be it hydro-electric power from Canada or from fossil fuels that came from another part of the world. That idea of self-sufficiency resonates with us and just seems sensible.
How has going solar changed your living habits?
I don't know if it's really changed our living habits, but we're certainly much more aware of the amount of energy we consume and generate! In the past, we'd get the electric bill and we'd just pay it. We didn't really pay attention to our usage levels and patterns – now we know. Now, I can tell you how much we're generating on a daily basis. Sunpower, the manufacturer of the panels we have on our home has a website that can monitor our production and even a Smartphone app where I can see what's happening with the system from pretty much anywhere! It's really neat to see. We were even generating low levels of power during some snow storms in February and March!
What is the most important power device that your panel will be charging?
That's a good question.  I think more than anything its charging our excitement that this can be done on a very small level by just about everyone. I recognize that me going solar is just a drop in the bucket in terms of the environment, power usage, reliance on foreign energy, but if enough people join in with their small steps too – then we can say that we've made a difference!
We're big fans of SunCommon and how they've made going solar so easy for us. We look forward to many years of working together!