🤔 Fact or Fiction: Solar Panels Are Hazardous
As a leading solar installer across New York and Vermont, we field a lot of questions like:
"Are solar panels recyclable?"

"What happens to solar panels once they're no longer in use?"

"

Are solar panels  hazardous for the environment?

"
Most of you who are interested in clean energy care a lot about the Earth, so your concern for the full impact of solar is understandable. At SunCommon, we believe that everyone deserves a healthy environment and a brighter future — and that doesn't include coming up with solutions that create more problems. So we're happy to tell you…
Solar panels CAN be recycled!
Our planet has finite resources and finite space, so anything that can be recycled should be — including solar panels! Solar panels are mostly made of glass and aluminum, both of which are widely recyclable. Europe already requires recycling, and the United States will soon follow suit as the amount of deployed solar across the country increases.
But what if they do end up in a landfill?
All manufacturers of high-quality silicon solar panels go through an EPA-prescribed testing process that can identify whether a substance will present a hazard if it one day ends up in a landfill. The procedure involves destroying solar panels in a laboratory and measuring the chemicals that come out.
The high-quality crystalline silicon panels installed by SunCommon at homes and businesses in New York and Vermont all fall below the EPA's limits for hazardous materials, which means they will not pose a hazard if thrown into a landfill.
Many other everyday items fall above the EPA's hazardous material thresholds, including CFL bulbs, laptops, and cell phones. In fact, a single lead acid car battery is many times worse for the environment than a whole field of solar panels.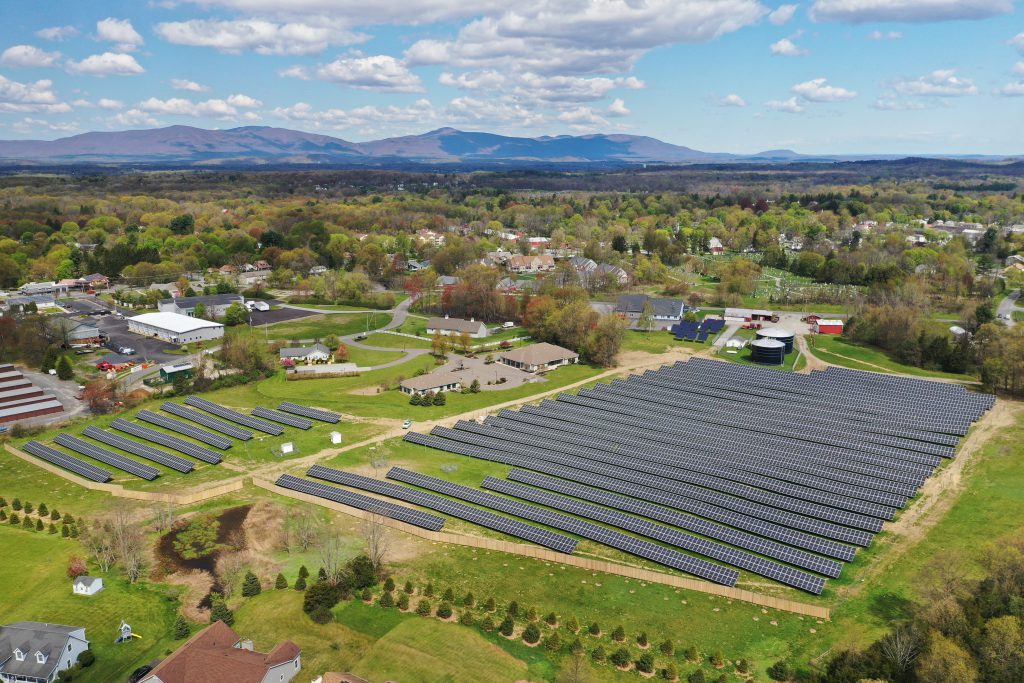 SunCommon's Community Solar Array (CSA) in Red Hook, NY was built on top of the town's water well field. When the project was first proposed, many folks in Red Hook were understandably concerned about what could happen if the panels were damaged and the effect that would have on the town's water supply. 
After we explained the EPA testing process and the results for the type of panels we use, the concern was alleviated. Today, 250 households and 30 town buildings rely on the Red Hook CSA for their energy needs! 
Everyone who's gone solar with SunCommon can rest assured knowing they've invested in a clean energy future that won't just create another environmental issue down the road.
Ready to commit to a clean energy future?
Get Started We're here to help you find your solar solution, whether that be solar at home, at your small business, or on a larger commercial structure. Click the button to get started. Thank you!
Copyright 2019 SunCommon
|
All Rights Reserved | SunCommon is a trademark registered in the US Patent and Trademark Office