Meet Charity Carbine-March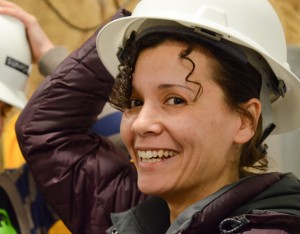 Charity Carbine-March is an avid environmentalist who is passionate about social justice. Charity is in charge of new product development to keep us innovating!
Tell us the story of how you came to be SunCommon's New Product Development Manager!
Before joining SunCommon, I worked as an organizer and advocate at environmental organizations in New York and Vermont.  Most recently, I was working as VPIRG's environmental health advocate.  That's where I met James and Duane – SunCommon's wonderful co-presidents.  I joined SunCommon as the Solar Goddess in charge of all things SunCommon but have shifted into a position I truly love that keeps me on my toes: New Product Development. I'm loving every minute of it!
Coming from an activist/non profit background, what excites you the most about working for SunCommon?
I've been working with environmental organizations for the last ten years in no small part because of my strong belief that we must act to address one of the most pressing issues of our day – global warming.  This is why I'm so excited to be working for a company that has a truly innovative approach to increasing the amount of renewable energy we use in Vermont.  Change usually comes from the ground up – that's what we're doing at SunCommon.  We're making change one household at a time.
You live out in the country with your wife and 2 year old son. What does an evening after work look like for you?
Life out in Wolcott is amazing.  These days we spend a bunch of time in the garden trying to keep Finn, our son, from eating all of the strawberries before they're ripe!  We also spend a lot of time frolicking out in the yard with our dog, donkeys, and chickens.  What can I say–summer evenings in Vermont spent with the people you love are really something to cherish.
What is your favorite home appliance to power?
I have gone cuckoo for our Vitamix blender.  It's not just a blender.  It's something else altogether.  The machine can eviscerate cashews into whipped cream–a real treat for a vegan.  And it can turn spinach and carrots into velvety smoothies and popsicles that our son can't get enough of.  A brilliant invention.  It's the Dyson of the blender world!