Featured Solar Homeowner: The Rutledges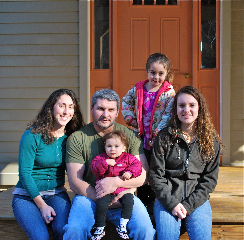 Back in March of 2012, Kristin and Rob Rutledge saw the story of SunCommon launching on WCAX and were intrigued by the idea of saving money and going solar. From the stunning mountaintop vista of their home in Duxbury, they are thrilled to have a well sized array of solar on their roof. Here's what they have to say about going solar.
What were your motivations for going solar?
The concept of using a renewable power source was just awesome, and we wanted to protect ourselves from the rising cost of electric power.
What had kept you from going solar previously? What was the ultimate deciding factor in making the jump to solar?
It was most certainly the cost for us. We're a larger family with young kids, middle class and we just don't have tons of money stashed away… But the thought of replacing our current power bill by going solar was something we just had to look into. And we're so glad we did!
What advice would you give to future solar homeowners?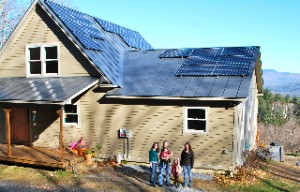 Check it out, it certainly can not hurt.
What are you most excited about?!
Coming home and seeing panels on our roof. Monitoring our system with the easy to use apps available by SunPower is also a lot of fun for the family.
What is the most important power device your panels will be charging?
Appliances and our lights I would say.
~Kristin, Rob, Darby, Briley and Lira Rutledge