SunCommon's earns state certification for professional experience and conduct
We are Certified with our Friends of Renewable Vermont!!
Back in May, SunCommon earned certification as a Full Solar Partner from Renewable Energy Vermont (REV), our state's industry trade association and the qualifier of solar installers here to be eligible for the Vermont Small Scale Renewable Energy Incentive Program whose cash rebate brings down the cost of solar for Vermonters.  Only solar installers who have undergone this rigorous certification based on a detailed review of our workmanship, performance and experience can provide the state incentive to their customers.
The purpose of this program is to provide solar customers a benchmark of installation quality and experience for solar installers, and to limit access to the state funds to certified installers only.
Why This Program?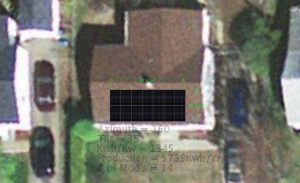 REV established the Vermont Solar and Wind Partnership Program in 2003 by as a voluntary program for its members. In 2005, Vermont's Solar and Small Wind Incentive Program stipulated that incentive payments can be made only to installers who have been approved as solar or wind partners. Membership in the partnership program was then made available to all installers of solar and small wind systems. REV remains the administrator of the Partnership Program.
What Does it Mean for You?
Companies and individuals listed as partners offer professional experience installing renewable energy systems and a proven track record of professional conduct. By hiring partner installers, your project may be eligible to receive financial incentives from the Vermont Solar and Small Wind Partnership Program. To take advantage of these incentives, homeowners and business owners must go through an installer that has been approved by the partnership program.
Businesses that qualify for Full Partnership are experienced installers committed to professional, high-quality installations. These businesses have demonstrated professional experience by completing at least three recent solar installations and submitting detailed engineering documentation, line drawings, and photographs of the installations before committee charged with reviewing the professionalism, safety and quality of the project.  SunCommon earned our Full Partnership right out of the gate.
More specifically, our Solar Engineer Jacob Flanigan is named as the Solar Partner – responsible for substantial involvement in every one of our projects, personally approving each engineering design and rebate application.  He's an electrical engineer who has designed hundreds of solar systems.  Jacob leads our Engineering Department, providing leadership to the three other Solar Designers in training, quality control and innovation.

Earning this certification doesn't require SunCommon to join REV.  But we're happy to support the organization and its role in developing the renewable energy sector here to meet Vermont's needs.
Trying to do our part,
The solar folks at SunCommon