Meet Dayton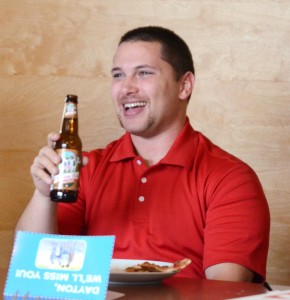 As a member of the Air National Guard, Dayton, has been away from us for a few weeks on training drills, however, this week we say goodbye to him for 6 months as he embarks on his mission to Afghanistan. Dayton was the third designer to join the SunCommon family back in April and has been a crucial part of the company's progress.
We'll miss his enthusiastic weekly meeting highlights, fluffer nutter sandwiches, jokes and ever positive presence.
What inspired you to become a solar engineer/designer?
I first wanted to go into the building industry and began my education at Vermont Tech in Architectural Engineering.  There, I was introduced to the Sustainable Design program and I loved everything about it. I knew I wanted to be in the renewable energy business.
What is the most fun and or most rewarding part of your job?
The best part is that this job is never boring.  The solar industry changes constantly and it seems like I am learning something new everyday.  Creating an solar design is like meshing art and electrical into one puzzle.  I also really like the variety in the projects –  one day, I might do a few roof mounted designs for small families and the next I will work on a massive ground mount system for a farm.
How does your work in the Air National Guard compliment your work as a solar designer? Where is there cross over?
I first joined the unit I'm with now because it offered me the chance to learn more about construction.  Work on different projects all over the world, in varying fields has really broadened my knowledge of civil engineering and building systems.  I am always able to bring something I learned back and forth from drills.
What are you going to miss most about SunCommon?
I will definitely miss the people here.  I have never worked with such a great bunch of people and such a great business. I've felt warm and welcomed ever since I started and I can't wait to come back.