Is Your Roof Ready for Solar?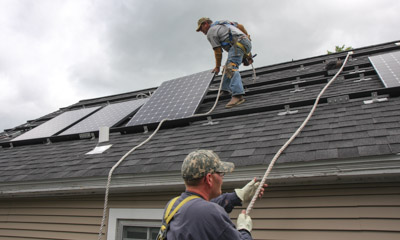 To answer this question we turned to our Solar Designers, who explain the suitability of various roofing types for solar. We take this stuff seriously; when we install solar panels on your roof, we want to be sure that they will last for many, many years.
Asphalt Roofs
Most asphalt roofs (3 tab, architectural, etc.) in good condition are easy to attach to and flash. This makes them great for solar! If you have a custom or atypical asphalt roof, give us a call and we can help determine if there will be any issues.
Corrugated Roofs
Corrugated roofs in good condition with solid attachments at the valleys or flat portions are great for solar. There are situations that can cause seals to break during installs due to excessive movement of the roof, however. We have seen this happen when 1) thin corrugated roofs on purlins spaced out too far and 2) Corrugated roofs with screws/nails on top of the ribs.
Standing Seam Roofs
We recommend double-lock, screwed down standing seam roofs. Other standing seam roofs may be useable but we may not be able to take advantage of attaching to the seam and avoid penetrations.
Slate, Cedar Shake, Terracotta/Clay Roofs
These roof types are prone to cracking and damage during installs. Therefore we do not install on these roof types.
Flat Roofs
We currently do not provide racking systems that are outfitted for these types of roofs.
All Double Roofs
(Roof material on top of other roof material). This creates additional weight on top of the roof and tends to make the top roof uneven and more prone to damage during install. Therefore we cannot install on these types of roofs.
Roofs in Poor Condition or Older Roofs
We don't want to install on a roof that will need to be replaced soon (within 15 years). During reroofing, the PV array would need to be removed and then reinstalled at an additional expense. Poor roof conditions also increase the chances of damage during installation.