Faces of SunCommon NY: Meet Our Customer, Messner Carpet
We had the privilege to sit down with Ted Messner of Messner Carpet, one of our cutting-edge commercial solar clients, to talk renewable energy. Messner Carpet had a unique challenge when considering their install – they are located in a historical building in a preservation district. We were happy to help them navigate the challenge. Read along to see how their solar experience has been thus far.
Q: Why should companies care about clean/solar energy?
A: Energy is something almost all businesses cannot function without.  As we progress into the future with a majority of people's energy being generated from a limited resource, we believe it is important to look at other alternatives from more sustainable/renewable resources.  Also as a family business that has been located in the village for over 35 years, we believe this investment furthers our commitment to the community with the intention of staying for at least another 35 years.
Q: What impact does going solar have on your business?
A: We are the only flooring company in the region to have solar panels installed and for some customers that can make the difference.  We believe it is one of the many things that distinguishes ourselves from the competition.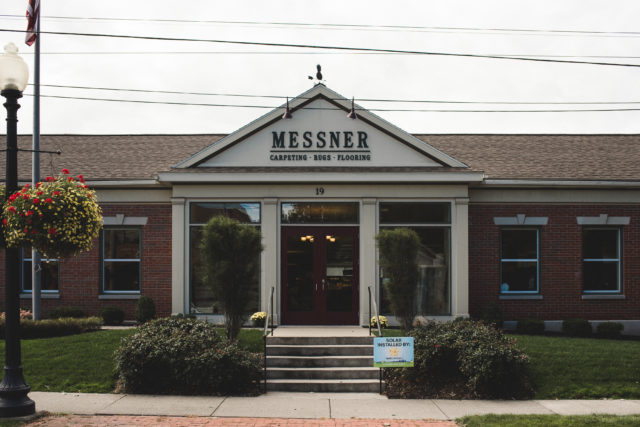 Q: Financial impact?  
A: After our system went online, we saved almost $3,000 dollars a year.  This money would have otherwise gone to the utility company, but instead it is being used to pay off our initial investment.  We were also able to utilize the tax incentives that were very beneficial the year after the system went online.
Q: Social impact?
A:  I think this really shows we are committed to more than just flooring.  My father has always been adamant about being involved in the community and contributing in different ways to make it better.  Whether it is volunteering, surpassing our employee gift to the United Way each year, or our Design for a Difference project, he has created an atmosphere where doing the right thing is important.  With some of the many challenges facing our planet, I believed this was an opportunity for us to do the right thing and make a real impact. The right thing can be tough in certain business situations. But, by going solar, the financial benefits made this a no brainer.
Q: What impact do you hope to have on the community by going solar with SunCommon NY?
A:  The whole concept of solar panels is still relatively new to a lot of people and we wanted to be the pioneers of solar in the village of Pittsford for a multitude of reasons.  Specifically, we wanted to show the village and others around the country that anyone can install solar – being located in a designated historic building in a preservation district didn't limit us to do so.  Every aspect of our installation took into account the guidelines for historical aesthetics and preservation.  I also hope that we can be a resource for people considering solar because there is a lot of misleading information out there that might turn people away.
Q: What has your customer's response been to your commitment to renewable energy?
A: Many customers are always surprised when they find out we have solar panels installed on the roof because it blends into the building so well!