Construction Begins on Adam's Berry Farm!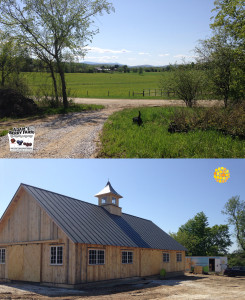 Kat and Denise went and visited Adam Hausmann of Adam's Berry Farm in Charlotte today – what a stunningly beautiful spot!
Adam moved his farm from the Intervale in 2012 after one too many floods, and with help from the VT Land Trust, relocated to a farm with sweeping views of the Adirondacks.
With 2 poles already in progress, today the 20 panel roof installation began on Adam's recently constructed, awesome barn, which will serve as a farm stand, storage and refrigeration. Adam also has an adorable black lab pup named Mason.
Berry picking season starts soon, so get out there!