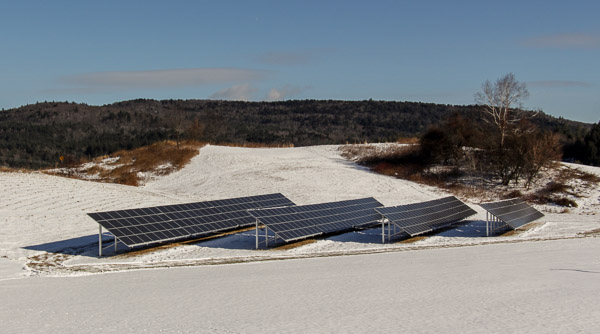 DUXBURY, Vt. (AP) — Vermont Gov. Peter Shumlin and Green Mountain Power President Mary Powell inaugurated the largest solar array at a Vermont school Thursday, throwing the switch on the 157-kilowatt device at the Crossett Brook Middle School in Duxbury.
The two were surrounded by about 260 students from the school as well as other state and local officials.
''This is the biggest solar installation of any school in Vermont,'' Shumlin said at a school assembly before everyone went outside. ''The work that you are doing, the leadership that you're providing will ensure that our planet is more livable for you and your children.''
The 480-panel array can produce enough electricity for about 30 homes. It's expected to provide about a third of the school's electric needs and save the school, and local taxpayers, thousands of dollars in electricity costs.
The local school board conceived the idea last year of building a solar array large enough provide a significant portion of the building's electric needs.
The project cost about $550,000, capital provided by Green Lantern Capital, which has an office in Waterbury.
© Copyright 2013 Globe Newspaper Company.