Being Thankful
2017 has been a wonderful year for SunCommon. We just celebrated being the #1 fastest growing company in 2017, we added 20 new employees to our roster, and we will have added 19 more megawatts of clean energy to the grid by the end of this year alone! We are so incredibly grateful for these accomplishments, among others.
In addition to these wonderful things, we are grateful to have our very own National Guard, Ted Courtney, back in the U.S. and back with our SCNY team after serving on the ground in Afghanistan for the past year. Ted, thank you for your dedication to this country and for the sacrifices you have made.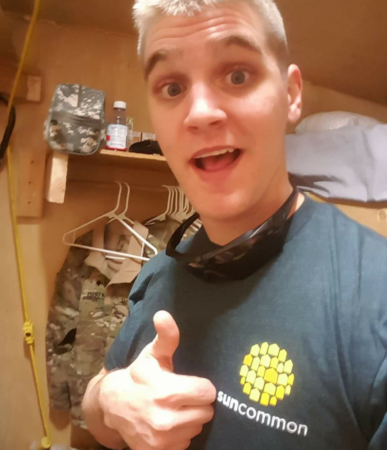 Ted described how great it was to anticipate [and finally be able to breathe in] clean air once he landed on U.S. soil. That's certainly something we take for granted each day. Yet, it's something we are tirelessly working towards every day, even if it's not in the forefront.
Ted is home safe now and we are so thankful he has returned to our "family", building renewable energy in our community. Ted will be leading our next new install team in 2018! Yes, once again we are adding more jobs and empowering more neighbors to earn a living wage and truly be a part of the change we need in this world.
We are thankful for so many things this holiday season, but we wanted to especially recognize Ted and honor his sacrifice to our country and to keeping this world safe and clean for future generations.