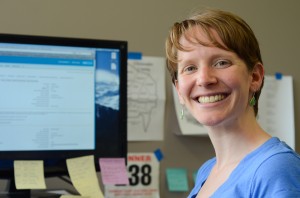 Kristin is one of our three Solar Guides. She has the hugely important task of working with a homeowner throughout their entire process of going solar. Not only is she impressively knowledgeable, she is a pleasure to talk with! This job requires someone with awesome people and problem solving skills. We thought you'd like to know a little more about Kristin.
You work with all the minute details of helping people go solar – yet, when you step back and look at your job – what do you see? What inspires you?
I'm inspired by the fact that Vermonters can now have a choice in where their energy comes from without having to pay more.  The best part about my job is that I get to work directly with folks and share their enthusiasm. I'm moved by the people I talk with who are so happy that solar is finally within their reach. It is definitely the bigger picture that drives my dedication to do all that I can to help them finally go solar.
On top of these great connections outside the office, everyone I work with is incredibly talented.  They provide me with lots of support, encouragement and laughs.
What's your most important tool at work?
Salesforce- by far! That's the name of our database, where all the information comes together about electricity use, roof angles, system size, financing options…we customized it to include over 200 fields so we can get each solar system just right for that home.  It's key to our bringing the cost way down and keeping all the balls in the air.  I really can't imagine how we'd manage without it.
You have been designated the green thumb of SunCommon. What current botanical pursuits do you have in the works for the office?
I can't lay claim to being THE green thumb, but I do strive to be surrounded by plants everywhere I am!  In my attempt to cull my plant collection at home, I've given just about every co-worker a plant for their windowsill here in The Energy Mill.  Yet, most exciting is the work garden that we are starting outside.  We've cleared a spot, brought in some compost and are going to plant some tasty veggies – hopefully to enjoy during lunches and after work barbeques!
What is your favorite ways to spend time outside of helping SunCommon customers go solar?
On the evenings or weekends, I generally spend time going on outdoor adventures with my partner Matt and our dog Zoe.  We've mostly been hikers but are starting to get into mountain biking – hopefully without compromising injuries!  We're also big hockey fans, so I will veg out on the couch and watch the games, or veg outside and read a book.