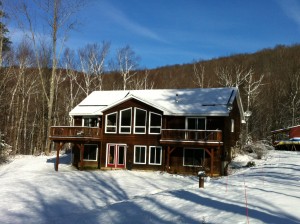 "The first winter with our new solar panels, I went out after every snow storm and meticulously cleaned off our panels.  It was so exciting to have them!  But after the first month, I lost steam and didn't get around to it.  At that point I realized that the difference in electricity production was just really minimal.  So, I haven't bothered since."  
-Gaye Symington
Hey, it snowed on my solar panels…
Most of us are thrilled with the snow that's fallen across our beloved Vermont.  Yet we've heard questions from some solar homeowners about the effect of snow on their systems.  So we thought we'd share with the entire SunCommon family what's up with snow and solar.
Should I remove snow from my solar system?
We recommend against getting up on your roof to wrestle snow off your panels.  The panels are dark and gather enough sun soon to melt the snow, which will slide off the slick glass surface.  Swinging a rake or shovel up there could harm a panel or catch on a roof-mount.  And of course the warranty doesn't cover damage caused by the homeowner.  Plus, getting up on a snowy roof would risk your getting hurt, which nobody wants.
But aren't they supposed to be making electricity?
Between the scant sunlight during our short winter days and the occasional snowfall, Vermont's cold months don't yield much electricity compared to the power that pours off your roof from the bright summer sun.  So no, after a big snowstorm, we don't expect the panels to be producing.  Remember that the way "net metering" works is that you store up credits for the power you make and then draw them down when the sun isn't shining.  When SunCommon's engineering team designed your system and determined how much electricity it will produce, we factored in the amount of sunlight Vermont homes receive over the course of a year and took account of snowfall.   You'll catch up when the sun again shines brightly.
Well, what if I want to squeeze all the electricity out of them that I can?
You're of course free to knock yourself out.  But for all the effort and danger of clearing off your panels maybe a few days before Mother Nature would do the work for you, they'd generate the equivalent of only a partial day of summertime electricity production.  Again, your system was designed with our winter darkness and snow cover in mind.